YouTube live mobile video changes everything
Google finally embraces mobile live video streaming. Here's why the world will never be the same.
Why YouTube mobile live streaming changes everything
Mobile live video streaming has been around for a while, but Google's entry is a game-changer. Here's why: YouTube is a star machine.
Felix Kjellberg, a.k.a. Pewdiepie, made $12 million last year from advertising on his video-game-centric YouTube video channel. He has 46 million subscribers. YouTube has made millionaires out of dozens of hitherto unknown people.
Many YouTube obsessives are teens and children, who know YouTube stars better than they do TV stars. As the young get older, they'll bring their YouTube-viewing habits with them, squeezing out and simultaneously influencing TV even further than has already happened.
Will YouTube stars embrace YouTube live mobile video? I say they won't. In fact, most of them already record from desktops, and if they wanted to stream live they could have been doing it for years.
The truth is that different types of media favor different kinds of talent. Lucille Ball was almost unknown as a radio personality, but became a huge star when TV went mainstream. Pewdiepie could never have made it on TV, but he rules the YouTube medium.
The biggest homegrown YouTube stars tend to be charismatic, hyperactive, irreverent people with editing skills who record in their bedrooms and talk about video games, wacky gadgets or beauty products. YouTube favors a particular kind of editing that, combined with goofy or outrageous commentary, makes sure that even the shortest attention span stays glued to the screen.
In other words, YouTube stars have been made by a certain kind of performance and a certain kind of production.
Just as a Darwinian process transformed a handful of YouTube users into mega stars, the same will happen with YouTube mobile live streaming.
But YouTube's live mobile feature will usher in an entirely new kind of YouTube star. I'm sorry, Pewdiepie, but you're a washed-up has-been, a media dinosaur.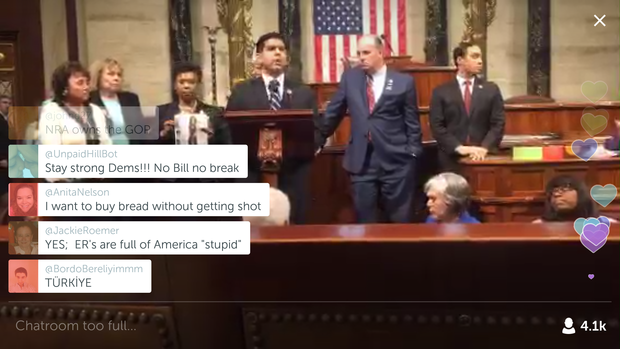 Martyn Williams
A Periscope feed of Democrats protesting in the House of Representatives on June 22, 2016.
Instead of favoring canned, edited productions showing quirky personalities indoors, YouTube mobile live streaming will favor people who do interesting things or stream from interesting locations or events. Mobile phones are mobile, and the streaming audience will favor the outdoors, the historic, the controversial, the dangerous and the unexpected.
Last week, Democratic lawmakers staged a sit-in on the floor of the U.S. House of Representatives as a tactic to force a vote on gun control. But the event was not aired on C-SPAN because House Speaker Paul Ryan ordered the network's feed to be shut off because Congress was not officially in session.