How News Corp is uniting 10 business units and 25,000 employees in a global IT push
'Initially, this was a very different way of working,' says Global CIO Dominic Shine.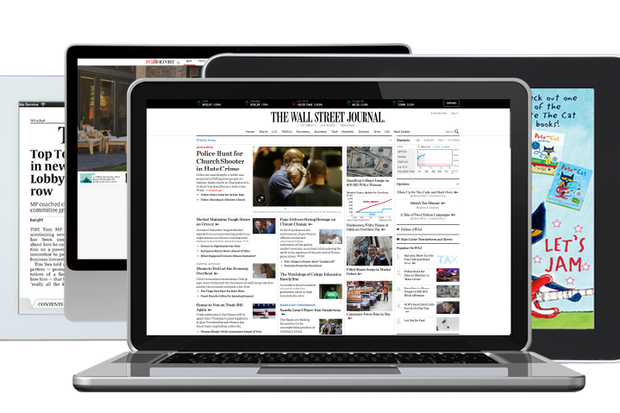 Among News Corp's many brands is The Wall Street Journal. Credit: News Corp
Embarking on a new IT project is a major undertaking no matter what your company's scope or size, but when you're News Corp -- with 10 business units and 25,000 employees around the globe -- it's not for the faint of heart.
That, however, was exactly the challenge that faced Dominic Shine less than a year after he joined the media conglomerate as global CIO.
Spurred by the company's split from 21st Century Fox back in 2013, Shine helped create a brand-new global enterprise IT strategy to take the newly reborn News Corp into the future. With 25,000 employees to support in 10 major business units covering diverse industries such as news, book publishing, marketing, real estate and education, Shine started by ensuring that the new strategy was based on three simple pillars.
First, the new IT plan would support continued acceleration of digital growth and revenues; second, it would modernize internal platforms and tools to enable cultural change, increase collaboration, and make employees more effective, productive and engaged; and finally, it would consolidate News Corp's infrastructure and operations to free up funds for its digital transformation while also improving responsiveness, agility and scalability.
"Our 10 businesses were pretty much each paddling their own canoes up to that point," Shine said. "They each had their own technology strategies."
At the time, News Corp operated more than 50 data centers. Email was handled by on-premises platforms like Microsoft Exchange, and much of the company's enterprise software was "monolithic" and unreliable, Shine said.
Among the initial goals for the new IT transformation: to get 75 percent of News Corp's computing power onto the cloud within three years, to consolidate its 50 data centers down to six, and to achieve $100 million in savings over three years.
Now just two years in, that savings objective has already been met. The company has brought roughly 50 percent of its computing power onto the cloud -- leaving just 25 percent still to go -- and more than 20 data centers have been closed.
Along the way, the majority of on-premises email has been replaced by Google Apps. Old platforms such as PeopleSoft have given way to Software as a Service (SaaS) cloud apps from companies such as Workday that "give us a lot more flexibility," Shine said.
Salesforce.com has replaced numerous legacy apps, and Amazon Web Services (AWS) has largely answered News Corp's public cloud needs. New Relic, meanwhile, helps with performance measurement and management.
Dropbox for Business is the tool the company has chosen for collaboration enterprise wide as well as with partners. News Corp brand The Wall Street Journal, for instance, uses the cloud software as a hub for collaboration around the increasing number of videos submitted by its journalists, Shine said.