GE adds edge analytics, AI capabilities to Predix industrial IoT suite
At its annual Minds + Machines conference, GE Data is unveiling a slew of extensions to its Predix Edge PaaS.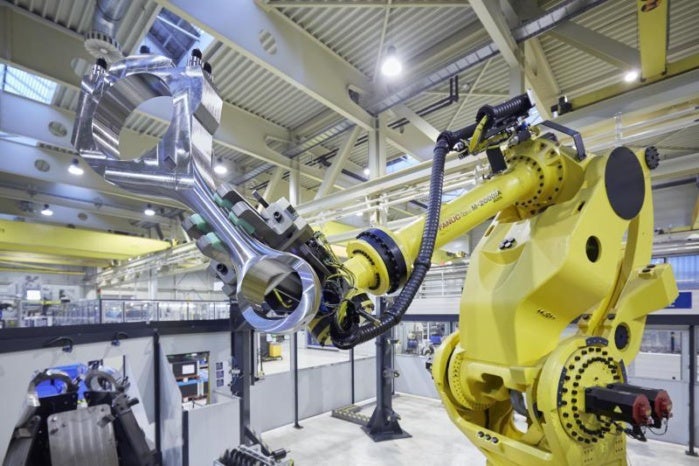 Credit: GE
To solidify its position at the center of the industrial IoT (IIoT), GE Digital is going to the edge. That is, it's adding features to its Predix platform as a service (PaaS) to let industrial enterprises run predictive analytics at the network edge, as close as possible to data sources, whether they be pumps, valves, heat exchangers, turbines or even machines on the move.
The main idea behind edge computing is to analyze data in near real-time, optimize network traffic, and cut costs. At its annual Minds + Machines conference this week in San Francisco, GE Digital, the software arm of industrial conglomerate GE, is offering an array of new applications and features designed to run at the edge network and let companies more efficiently and precisely plan service times and predict equipment failure.
The new apps, which extend the Predix Edge platform announced at Minds + Machines last year, also are meant to connect information and operational technology (OT and IT) systems to better manage companywide assets, for example bringing data from the factory floor and inventory facilities into ERP and supply-chain systems that may reside in corporate data centers or in the cloud.
What is IaaS and PaaS for the industrial IoT
As enterprises try to get a handle on the vast amount of data generated by IoT devices, some of the biggest names in tech are offering a variety of apps and cloud services to help. Offerings from IaaS (infrastructure as a service) providers include Amazon's AWS IoT, Microsoft's Azure IoT Suite and Google's Cloud IoT Core. Software from PaaS and app vendors include PTC's ThingWorx and Siemens' MindSphere.
GE Digital's advantage is that it has what it says is the most comprehensive suite of IIoT apps and development tools running on its Predix platform, backed by 124 years of experience actually building and running a wide variety of industrial equipment.
"While most software companies maybe can give you a view of what happened historically or plug into a VC (virtual circuit) connection and show you what's happening with pressure flow and temperature, we actually have a lot of detailed knowledge about failure codes from our own designs and our manufacturing," said Eddie Amos, general manager for GE Digital's Asset Performance Management (APM) software business unit.
"We have a lot of insight in terms of optimization because we operate this equipment -- and because we also service this equipment it really gives us a unique, 360-degree view of what's going on, so that's the reason we feel we're unique in this space," Amos said.
Amos also points out that GE is working with IaaS providers. Predix runs on AWS and this quarter it will also be generally available to run on Azure. "We look at Azure and AWS as infrastructure as a service and Predix is a platform as a service, so we can depend on AWS or Azure to provide a level plumbing and we can add value on top of that," Amos said. "What we really like about this is that our customers can have a choice of whether they want to run on AWS, Azure, or on-prem."