9 social media mistakes your business must avoid
One errant or rogue post can derail your business's reputation. Learn what not to do from these real-world cautionary tales.
Social media has been a boon for businesses small and large, but it's also becoming a minefield for those unable to manage the increasing complexities of the run-and-gun nature of the beast. On a seemingly daily basis, we suffer through one "Twitter disaster" or another. It's becoming so commonplace that "Twitter disaster" really doesn't deserve to be in quotes.
Damage can occur with incredible swiftness. Although tweets and Facebook posts can be deleted, evidence of their existence is invariably captured and collected for posterity within seconds of their going live. Say something wrong on a social network, and it will haunt you for life.
Don't believe me? Check out these nine all-too-common reasons for failure, all of which involve real businesses being undone by a simple, wayward message on social media.
1. Hand the keys to someone not ready to drive


A sign of an intern gone wild?
It's understandable that as a small-business owner you might not want to spend your days tending to the Twitter and Facebook pages. It's a high-effort job that often has minimal bottom-line impact, so it's very tempting to outsource the task to another company or hand it off to a low-level staffer.
Big mistake.
The annals of business will likely record thousands of cases of posts and tweets gone wrong, all courtesy of contractors or staff members who simply didn't know what they were doing. The mixing up of a personal account and a corporate account is usually to blame for this problem. It's how a "social media specialist" posted a note about "gettng slizzerd" on Dogfish Head beer in the middle of the night to the Red Cross Twitter account. And how Chrysler sent out a tweet bemoaning that no one in Detroit "knows how to f**king drive."
The Red Cross actually handled the affair well, playing it off as a harmless mistake. Chrysler, however, went with the unfortunate, knee-jerk response (before fessing up): blaming hackers.
Solution: Ensure that your authorized social media users are properly trained and don't intermingle their personal accounts with corporate ones. Tools such as HootSuite can make managing multiple accounts easy, but they greatly increase the risk of making errors if your authorized tweeters are trigger-happy.
2. Fire the person in charge of social media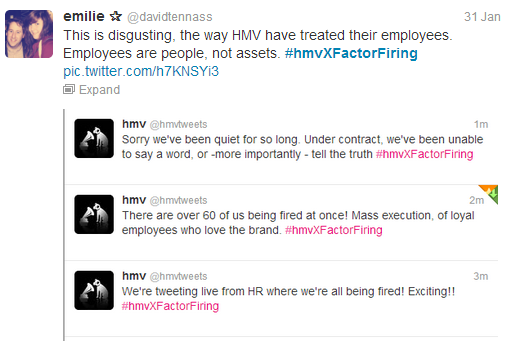 At least change your passwords before you fire the social media guru.
Eventually you're going to have to fire someone. How you handle that termination may well determine the way your business will go from that point on--particularly if one of the people getting the axe has the keys to the social media accounts.