Chrome turns 50 and stands at a crossroads
As Google reaches a major milestone, let's reflect on its uncertain future.
Google's Chrome browser has just reached a major milestone, hitting its 50th release.
For Google, it's a moment for positive reflection. To emphasize Chrome's might, the company points to the browser's 771 billion page loads per month, 1 billion monthly active mobile users, 9.1 billion auto-filled forms, and 145 million malicious webpages averted. One might also point to Chrome's ever-growing usage, accounting for 47 percent of all worldwide pageviews, including mobile, according to StatCounter.
Indeed, Chrome has become an indispensable tool for many web users, and has served as a leader in the browser world. It introduced the idea of limiting menu clutter around actual webpages, and popularized the syncing of bookmarks, tabs, and browser history across devices.
Yet for all the good Chrome has done, Google's browser now stands at a crossroads. Aside from just another way to browse the Internet, it's unclear exactly what Google wants Chrome to be.
Browser or platform?
In the beginning, Google's key tenets for Chrome were speed and simplicity. The browser's minimal menu system (or "chrome," hence the name) got out of the way, and its JavaScript engine crushed the competition as websites grew more advanced in the late aughts.
Those advantages are less pronounced now. Nearly every other browser has embraced restraint with their own chrome, and Chrome is no longer the clear victor in benchmarks. Meanwhile, the ever-increasing demands of the modern web have given Chrome a reputation for being a resource hog and a battery killer, even if other browsers aren't markedly better.
A few years after Chrome launched, Google started broadening its ambitions. It introduced the Chrome Web Store, and eventually the concept of native Chrome apps with offline functionality. A Chrome app launcher followed, along with push notifications from web services and Google Now. These new features were supposed to turn Chrome into a platform-within-a-platform on Windows and Mac, while making Chrome OS into a legitimate desktop operating system.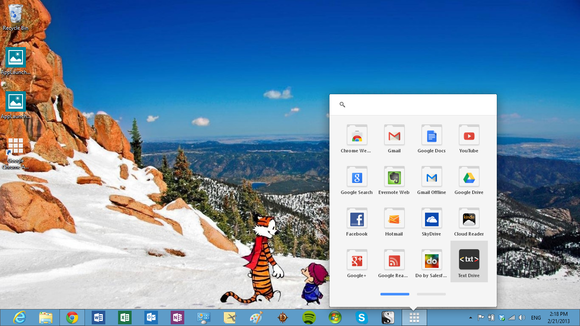 The Chrome app launcher in Windows (RIP).
But over the last year, Google has dismantled or abandoned many of those efforts. The Chrome notification center is now dead on Windows and Mac, as Google considers embracing native notifications on those platforms. The Chrome Web Store fell into disrepair years ago, and Google has shown little interest in cleaning it up. The Chrome app launcher got nixed on Windows, Mac, and Linux because no one was using it.
As for Chrome OS, its future is far from certain. Although the platform has traction in the education world, and probably isn't going away, a merged Chrome-Android operating system for consumers seems likely.