CrowdFlik rides Waze's crowdsourcing wave with new mobile video app
Startups are fighting for a niche in the social video space with creative touches, like CrowdFlik's new crowdsourcing video app for events.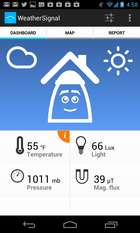 WeatherSignal crowdsources conditions using your phone's sensors.
There are different crowdsourcing methods — some apps want you to report information to them, while others use your phone itself to collect data. WeatherSignal uses your phone's sensors to create a social map of temperatures, humidity levels and more. Sister site OpenSignal measures your mobile phone signal to map coverage and tower locations.
CrowdFlik combines the usefulness of audience data with the appeal of Instagram, Vine and other media-sharing sites.
An app or service that can jostle for space in the crowded social media market by building a base of users who (willingly) provide information or share content becomes more valuable to bigger companies who may want to acquire those apps or advertise on them.
CrowdFlik's challenge is building a critical mass of users who will contribute their videos. The company plans to partner with venues and sponsors to promote the app, which Hamer says is a win-win. Brands see content they wouldn't have access to otherwise, and CrowdFlik gets the exposure it needs.