Five free Dropbox tools you're not using (but should be)
Easier sharing. Simpler sending. Secure encryption. Make Dropbox even better with any of these handy utilities.
Dropbox is handy, but you can make it even easier to use with a wide range of products and services that work hand in hand with the cloud-based storage, syncing, and sharing service. Check out these five favorites for getting even more bang for your Dropbox buck.
DropItToMe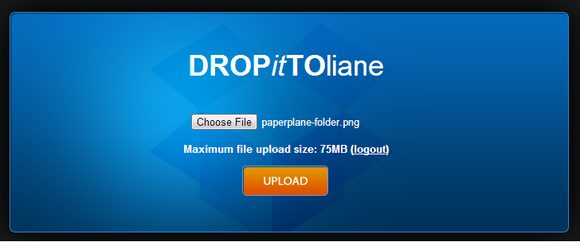 Dropbox lets you easily share files for other people to download, but it's harder for people to upload files to your account--unless you have the free service DropItToMe.
To use DropItToMe, you simply allow the service access to your Dropbox, and it creates a DropItToMe folder in your account. You then claim a username, which becomes part of the link that DropItToMe creates for you. I scored "Liane" as a username; with this link, anyone can send me files, which then appear in my DropItToMe folder in Dropbox.
I appreciate that DropItToMe provides an easy-to-remember URL rather than a random link. You also get to create a password, which is required for uploading content to your Dropbox account and provides a measure of security. (As with any password, share it carefully.)
DropItToMe also provides a convenient way to upload files to your own Dropbox account. You could use Dropbox's Web app when you're on a computer without Dropbox installed, but DropItToMe's upload link makes things simpler.
Compared with Dropbox, DropItToMe lets you upload files with fewer clicks. It allows you to place them only in the DropItToMe folder that it has already created, though, and it limits you to files that are 75MB or smaller. But it offers a free, simple way to allow other people to share content with you without their having to sign up for Dropbox.
BoxCryptor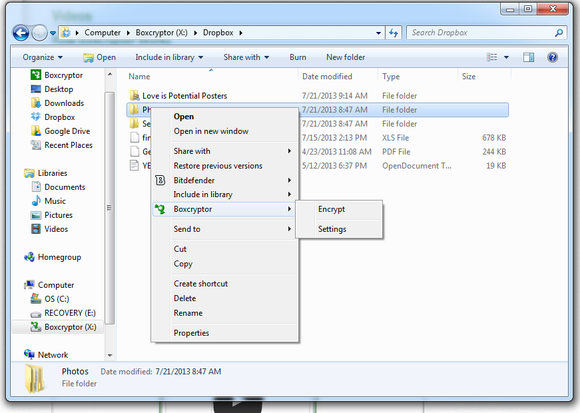 Dropbox's security pitfalls make some users hesitant to store any files there, especially sensitive documents such as tax returns or bank statements. Free service BoxCryptor automatically encrypts your files before they're uploaded to your Dropbox account. It also supports Box.net, Google Drive, and Microsoft SkyDrive.
Once you download and install the Windows client, BoxCryptor automatically adds a virtual drive to your computer. It finds your installed cloud-storage services and pulls those into the BoxCryptor folder. BoxCryptor uses AES-256 bit encryption to secure your files.
You can view all of your content in your BoxCryptor folder, but you can still use your original Dropbox folder, too. To encrypt a folder, you right-click it and select the Encrypt option. If you look at the file through Dropbox, it becomes unreadable. Through BoxCryptor, however, you get the original, unencrypted file.