GoogleX to circle the Earth with Internet-connected balloons
Astro Teller takes Google's plans aloft to bring Internet connectivity to remote areas.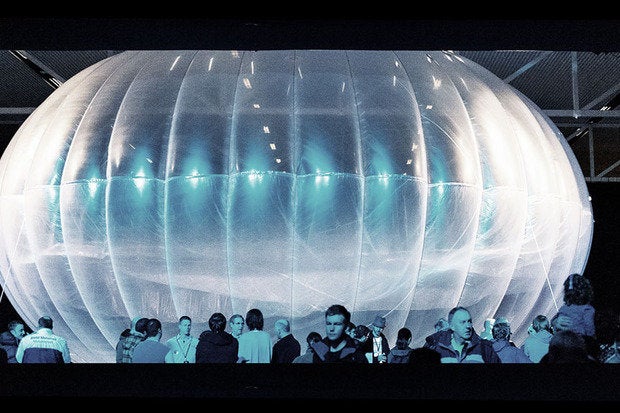 A Google Loon balloon. Credit: Wikimedia commons
Google is looking to launch a fleet of high-altitude balloons that will circle the planet, providing Internet connectivity to remote areas -- and it plans to do so within a year.
That's the plan that Astro Teller, head of Google's secretive "moonshot factory" GoogleX, told an audience at MIT Technology Review's EmTech conference in Cambridge today. The effort - known as Project Loon -- should prove to be a good way to get wireless Internet access to billions of people who don't have it today, according to a report in MIT Technology Review.
The Review also noted that Teller said Google should soon have enough balloons to prove that the project, which is focused on connecting cell phone users, is feasible. "In the next year or so, we should have a semi-permanent ring of balloons somewhere in the Southern Hemisphere," he said.
Google, working with local cellular providers, has been testing balloon-powered Internet access for more than a year now.
The company is tackling a huge problem. For two/thirds of the world's population, a fast and affordable Internet connection is out of reach. Google is trying to solve this problem with a network of balloons that fly above the Earth twice as high as commercial airplanes.
In June 2013, Google launched 30 high-altitude balloons above the Canterbury area of New Zealand as part of a pilot test with 50 users trying to connect to the Internet using them.
Then in April, the company announced that one of its balloons circled the Earth in 22 days.
Google's vision is to build a ring of balloons, flying around the globe on stratospheric winds about 12.4 miles high, providing Internet access to remote and underserved areas. The balloons communicate with specially designed antennas on the ground, which in turn connect to ground stations that connect to the local Internet service provider.
Though the concept seems far-fetched, Google X is the division of Google that came up with Glass, wearable computers that are in the prototype stage, and self-driving cars which have been logging miles on highways and city streets.
Dan Olds, an analyst with The Gabriel Consulting Group, said it's great that Google is working to get people in poor and remote areas connected to the Internet. But he's not sure how well the balloons will do the trick.
The balloons are set up to provide wireless Internet access using the same LTE protocol that mobile devices use. Each balloon is geared to offer data at rates of 22 megabits per second to fixed antennas, and five megabits per second to mobile handsets.