How Watchup became the Wii U's sixth streaming-video app
Unlike its rival game console makers, Nintendo has never really tried to sell the Wii U as a streaming-video powerhouse.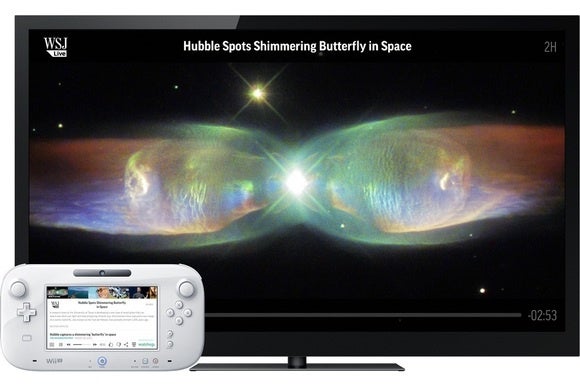 Unlike its rival game console makers, Nintendo has never really tried to sell the Wii U as a streaming-video powerhouse.
Sure, it has obligatory apps for Netflix, Amazon, Hulu, and YouTube; and it added anime service Crunchyroll last December, but Nintendo has otherwise seemed oblivious to the explosion of streaming-video options on other platforms. Services such as Sling TV, HBO Now, Crackle, Pluto.TV, and Plex are absent from Nintendo's console.
All the stranger, then, that the Wii U's sixth-ever streaming-video app is one you might have never heard of. It's called Watchup, and it acts as a kind of automated news channel. You tell the app which topics and news sources you like, and it strings together a daily newscast from short video clips. Watchup's Wii U app is tailor-made for the console, with the GamePad serving as a fancy touchscreen remote.
How did WatchUp become part of the Wii U streaming video catalog? According to Watchup founder and CEO Adriano Farano, Nintendo asked for it, seeking to fill a specific gap in its lineup.
The odd couple
"They actually came to us," Farano said. "I can't speak for Nintendo, but when you look at their video app strategy, they've always been extremely careful about adding new titles."
While gaming is clearly the focus at Nintendo, Farano said the Wii U has a "pretty engaged audience" of people who use the console for video, and presumably don't have cable TV. (Farano declined to give hard numbers, saying he wasn't allowed to share Nintendo's proprietary data.) After looking into the platform, and seeing that Watchup would have virtually no competition for streaming news, the startup began working on its Wii U app around the beginning of this year.
"We did our math, and we realized that there was a true opportunity there," Farano says.
Watchup and the Wii U do seem like they were made for each other. When you launch Watchup for the first time, you use the GamePad's touch screen to choose a few favorite topics and media outlets, such as NBC, PBS NewsHour, the Wall Street Journal, and the Economist. You can also plug in a zip code to get news from your local channels, provided they post their video clips on the web.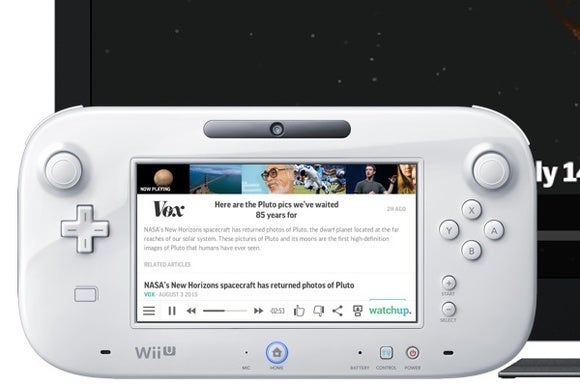 The Wii U's GamePad provides playback controls and a description of the current story.
After setup, a newscast immediately starts playing on the television. Meanwhile, the GamePad shows a text description of the current story, thumbnail previews of upcoming stories, and playback controls. You can also give a thumbs up or down to the current story to help tweak Watchup's algorithms, or jump to a specific topic or news outlet.