How Watchup became the Wii U's sixth streaming-video app
Unlike its rival game console makers, Nintendo has never really tried to sell the Wii U as a streaming-video powerhouse.
You don't need the GamePad's screen to use Watchup-everything can be controlled directly on the television with a secondary Wii U control-but it helps. And if someone else wants to use the TV, you can instantly toggle the video to play on the GamePad's screen instead.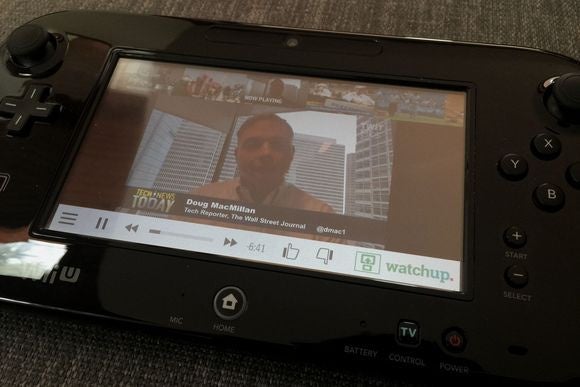 Pressing a button on the GamePad instantly switches video to the small screen. Credit: Jared Newman
"This is really the only platform where you can make a second-screen experience that is built into the hardware," Farano said. "For a news app ... that was extremely appealing to us from a product standpoint."
Beyond the Wii U
Clearly, being on the Wii U is a big opportunity for Watchup, which now sits right next to Hulu, YouTube, Netflix, and Amazon in Nintendo's eShop. As Farano puts it, the startup gets to be "side-by-side with giants."
What's less clear is whether people will notice. Farano mentioned some possible promotional support from Nintendo, along with its own marketing efforts, but for now, finding Watchup involves scrolling to the "video on demand" section at the bottom of the eShop. Chances are, people aren't accustomed to doing that, given how infrequently the Wii U has added any new video apps. And unlike Netflix or Hulu, Watchup probably isn't something that huge numbers of people are seeking out. The launch doesn't appear to be part of any renewed video push by Nintendo, though Netflix's Wii U app did get a redesign recently.
Still, Farano is optimistic about Watchup's Wii U app compared to its other TV apps on Xbox 360 and Amazon Fire TV, though he wouldn't get into numbers. "People spend more time on the bigger screen than on the smaller, just because the experience is more immersive, and we think that with the Wii U, we're going to see pretty similar levels of engagement," Farano said.
Farano also hopes Watchup can apply its work on the Wii U to other platforms in the future. He mentioned Apple TV specifically-it's already possible to beam video from Watchup's iOS app to Apple TV via AirPlay-though Chromecast also seems like a good fit with its interplay between the phone and TV screen. "As we design our roadmap, we are always on the hunt where the Watchup experience can make a ton of sense," Farano said.
He wouldn't say for sure, however, if Watchup might appear on whatever console Nintendo is working on next.
Source: PCWorld