'I almost got sued for knitting a Firefly hat': The legal risks of pop-culture fan art
How intellectual-property squabbles over fan-made crafts are alienating fan communities.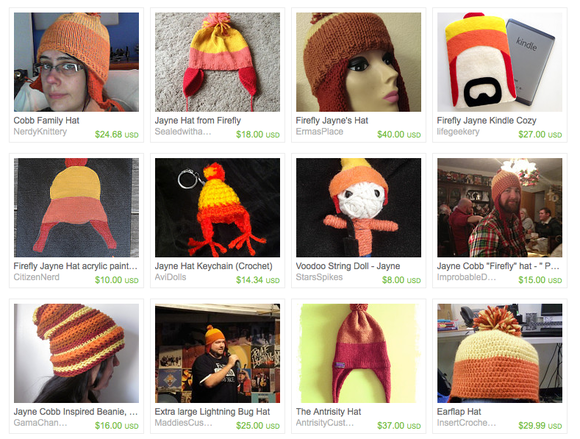 The Etsy market is full of unofficial, handmade hats.
Fox took action to protect the value of its license for official Jayne hats made by Ripple Junction. Although small, the Etsy sales cut into Fox's sales of the official licensed hat, and Fox is within its legal rights to take action against the third-party sellers.
The original idea of making and selling the hats came from the fans themselves, so fans feel that they deserve some latitude to make money from the idea, or at least to receive gentler notices of the new license. (Fox declined TechHive's request for comment.)
Firefly fans are quick to point out that the hat's story origins uniquely resonate with their own crafting motivations. Indeed, Cobb's hat was a handmade gift from his mother, and it appears in only a single episode. "There has always been a touch of motherly love to each and every Jayne hat made by fans. No two are quite alike. That's the charm," writes Dan Roth in an article featured onBlastr.
The blurry, blurry rules
Fans who had been knitting these hats for years were now screwed, thanks to Fox's claim that they broke the law after the official version debuted. But which law?
"Merchandising rights is a monster that has grown without any proper legal backing," says Madhavi Sunder, a professor of law currently at University of California, Berkeley, with a specialty in intellectual property and culture. "Under traditional copyright law, the exclusive right to make these goods is not there," she says. The U.S. Supreme Court has made no rulings in regard to merchandising rights, so intellectual-property violations have to be considered on a case-by-case basis.
Intellectual property is protected under both trademark and copyright, but the two concepts are different: Trademark protects names, terms, and symbols used to identify an original work or brand, and copyright protects the creative work itself. According to U.S. copyright law, the only groups with the right to distribute works based on an original creation are copyright holders. So, technically, only the original story creators are allowed to make pieces featuring images and concepts for which they hold the copyright.
In the case of Firefly, that would be 20th Century Fox Television. But what about series director Joss Whedon and his original production house, Mutant Enemy Productions? It's unclear what rights they have.
However, a loophole in copyright law known as fair use allows some interpretation on copyrighted works. According to Rebecca Tushnet, professor of law at Georgetown University, fair use provides some leeway for fan art. Fair use allows the reproduction of protected works in cases of criticism, comment, teaching, scholarship, research, and other purposes. In a court of law, judges decide whether a piece is considered "transformative"—if it's distinguishable from the original piece and adds artistic value or commentary.
Previous Page 1 2 3 4 5 6 Next Page