JustWatch review: TV guide for all of your streaming services
Although my family currently subscribes to cable (a bargain at only US$10 per month more than high-speed internet alone!), we count ourselves as "cord-cutters" since the majority of our viewing is streamed from services like Hulu.
The other thing missing is a tracking feature to display historical data views as prices drop or increase over time. Push notifications would also be welcome to alert users when the price of a Watchlist title goes up or down when the app isn't open.
Those quibbles aside, JustWatch does offer native support for iPad and iPhone 6 screens, along with high-resolution artwork that looks great on Retina displays. Unfortunately, there's no iCloud sync or account login, so Wishlist data stored in one place doesn't show up on other devices or the web edition.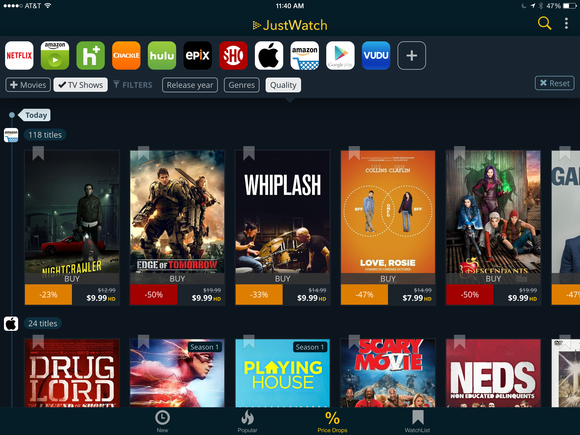 JustWatch is great for keeping tabs on which streaming provider has the cheapest prices on your favorite titles.
Bottom line
JustWatch turned out to be just perfect for quickly finding where movies and TV shows can be streamed, rented, or purchased online, but here's hoping Watchlist will become more useful in future updates.