Microsoft locks down Cortana: Blocks integration with other browsers, search engines
OK, Google, hit the road.
Microsoft is tightening control over Cortana. Only its Microsoft Edge browser and Bing search engine will work with searches initiated through Windows 10's digital assistant, the company said Thursday.
Microsoft isn't prohibiting third-party browsers like Opera and Chrome from working with Windows 10, and you can still configure the operating system to launch those browsers by default, when, say, a coworker emails you a link to a Web page. But, if you launch a search via Cortana, only Edge and Bing will be used to complete it, Microsoft said in a blog post.
"Unfortunately, as Windows 10 has grown in adoption and usage, we have seen some software programs circumvent the design of Windows 10 and redirect you to search providers that were not designed to work with Cortana," Ryan Gavin, the general manager of search and Cortana, wrote. "The result is a compromised experience that is less reliable and predictable."
Microsoft said that the "only way" it can deliver a "personalized, end-to-end search experience" is by integrating Cortana, Edge, and Bing.
Why this matters: Whether Edge and Bing are the "only way" that Microsoft can deliver these experiences is open to debate—possibly in front of a judge. (In 1998, Microsoft was sued by the U.S. government, which argued that bundling Windows with the Internet Explorer browser constituted an illegal monopoly—a claim that looks fairly absurd, given the state of apps and how they're integrated in operating systems today.) But Microsoft clearly wants to use its services to provide the best experience possible, which is no different than Google displaying directions to a location within its Google Maps app in Android. Its's worth pointing out, though, that Google Now on Tap will pull out contextual information about what you're looking at on your screen whether or not you're using Chrome or another browser.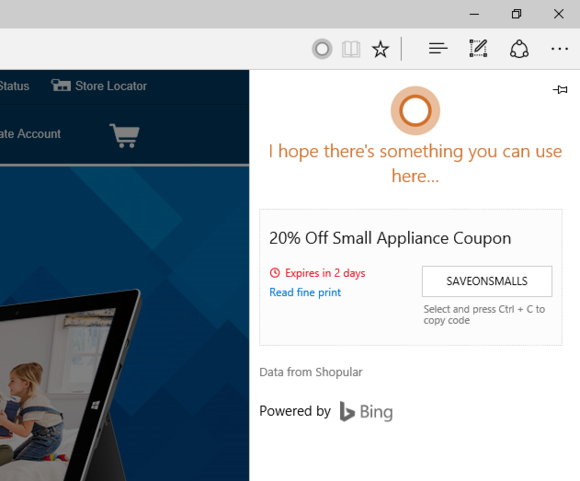 Cortana will automatically unearth deals coupons on shopping websites.
The benefit to you
Lest consumers begin grumbling, Microsoft also provided several examples of searches that users could perform with Cortana—and that would provide benefits that other browsers couldn't provide.
Search for "Pizza Hut" in the Cortana box and, once you're on the Pizza Hut website in Microsoft Edge, Cortana can show you the closest locations.
Search for "Bluetooth not working" in the Cortana box and Bing serves up a GIF on the results page, describing how to solve the problem.
While shopping for a dress in Microsoft Edge, you can perform an image search in Bing and then right-click a dress to Ask Cortana to get you more information on it. A list of stores and prices appears.
Search for "Best Buy" in the Cortana box, click through on the top Web result to bestbuy.com, and Cortana will offer up coupons to save you money. (Make sure you look for the Cortana icon in the address bar.)