Primed for pigskin: How to watch NFL football anywhere and on any device
Whether you're a cord cutter or a pay-TV addict, we'll show you all the ways you can watch this season's bone-crunching action on screens of any size.

Credit: WINSLOW TOWNSON-USA TODAY SPORTS
In its way, the NFL pioneered sports broadcasting. It wasn't the first professional sport league in the US to take advantage of the tube—Major League Baseball beat it to both network and cable television—but it always maximized the medium better than any of its competitors. From its first league-wide network contracts in the 1960s to its expansion to satellite TV in the '90s, pro football has secured its foothold in America's living rooms so thoroughly that it's now the primary way fans connect with the game.
Curiously, the NFL has fumbled its presentation on those other screens that dominates 21st century culture: Computers, tablets, and mobile phones. To date, the league has merely dipped its toe into streaming live games. That may change soon, however, as this season it will broadcast a game globally via the Internet only. It will also—temporarily at least—lift its 42-year-old blackout policy for local broadcasts.
Thanks to these developments, there are now more ways than ever to get your football fix as the season gets underway in earnest today (the season officially opened on Thursday, September 10, with the exciting game between the Pittsburgh Steelers and the Super Bowl champion New England Patriots).
Here's our guide to all your options.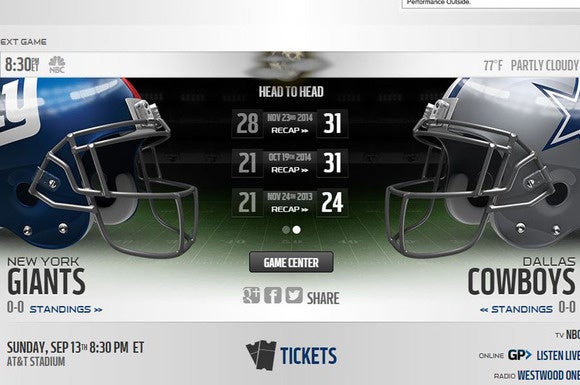 Sunday Night Football kicks off on Sunday, September 13 when the New York Giants take on the Dallas Cowboys.
Over the air
Unlike the NBA, NHL, or MLB, the NFL plays a simple 16-game schedule with each team playing one game a week. That lends itself to fairly predictable TV programming. The league splits the Sunday afternoon telecasts by conference: AFC games air on CBS at 1 p.m. and 4:25 p.m. ET, and Fox runs the NFC games at 1 p.m. and 4:05 p.m. NBC retains the popular Sunday Night Football broadcast, which kicks off at 8:20 p.m. ET.
This year ESPN celebrates its 10th season broadcasting the iconic Monday Night Football game (it took it over from ABC in 2006), which kicks off at 8:30 p.m. ET. For the season opener, however, the cable network will be broadcasting a double-header, with the first game starting at 7:10 p.m. ET and the second at 10:20 p.m. ET. (If you don't have a cable subscription, you'll need to sign up for Sling TV to watch ESPN.)
Thursday Night Football returns to CBS for a second year. Beginning Sept. 17, it will broadcast seven games, which will be simulcast on the cable-only NFL Network. The league's flagship channel resumes sole ownership of Thursday night games from Nov. 5 through Dec. 26, with the exception of Dec. 3 when both channels with broadcast the division matchup between the Green Bay Packers and Detroit Lions.