Primed for pigskin: How to watch NFL football anywhere and on any device
Whether you're a cord cutter or a pay-TV addict, we'll show you all the ways you can watch this season's bone-crunching action on screens of any size.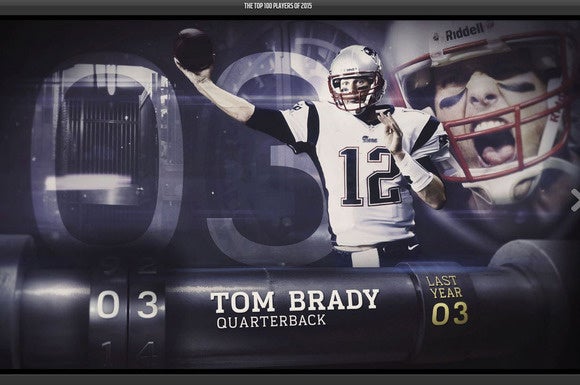 Deflategate, featuring the New England Patriots' quarterback Tom Brady, continues to roil the game. Credit: NFL.com
If this abundance of TV offerings has your head swimming like you just took a bone-crushing hit from Kam Chancellor, check out 506Sports.com or Sports Media Watch. Each site lists which game is on what channel for each week of the season. Bookmark them for easy access.
Bye bye blackouts
Undoubtedly the biggest development for NFL fans this season is the league's lifting of its longstanding—and controversial—blackout policy . Since 1973, pro football's broadcast rules maintained that a home game couldn't be televised in the team's local market if it wasn't sold out 72 hours prior to kickoff. The blackout policy was the strictest of the four major North American sports and the bane of every team owner (Miami Dolphins owner Stephen Ross famously bought up unsold tickets for years to circumvent TV blackouts) and fan.
Now that billion-dollar broadcast deals make football more profitable in the living room than in the stadium, the NFL is at least entertaining the idea of jettisoning its archaic policy by suspending it for this season. After the season, it will evaluate the suspension's impact and decide whether or not to do away with blackouts permanently. Stay tuned.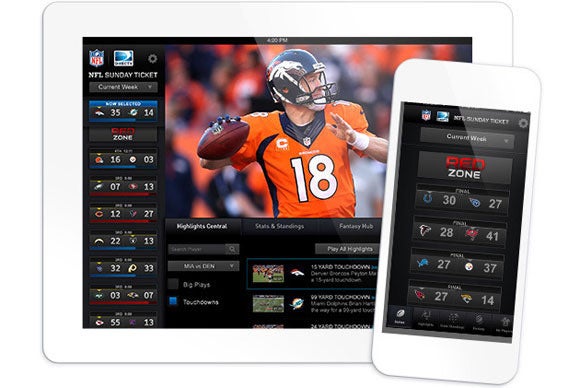 Hardcore football fans who subscribe to DirecTV might be interested in the service's NFL Sunday Ticket option. Credit: DirecTV
Cable and satellite TV
You can catch every down your home team plays this season just watching over-the-air broadcasts; but for expanded offerings, cable and satellite are still the way to go.
In addition to the NFL Network, many pay-TV providers continue to offer NFL's RedZone Channel. Hosted by Scott Hanson and existing only for about a seven-hour window each Sunday, RedZone airs nothing but the day's highlights (mostly touchdowns, as the name suggests) at a frenetic pace that perfectly evokes the adrenaline rush of a game-winning drive.
Both NFL Network and the RedZone Channel are available online as well. You can access them if you're a cable subscriber and your cable company is listed among the providers. That caveat leaves out Comcast subscribers—the company still isn't on the list of provider participants despite the fact that it continues to offer both channels in its cable packages.

Verizon has a lock on showing NFL games on mobile phones.
Among the hardest-core football fans, NFL Sunday Ticket, which gives you access to every regular-season Sunday afternoon out-of-market game, is as coveted a prize as the Lombardi Trophy. However, it remains the exclusive property of DirectTV as the satellite provider recently extended its rights to carry the package for another eight years.
Previous Page 1 2 3 4 Next Page