Privacy.com's virtual Visas are burner debit cards that keep online shoppers safe
Stop sharing your banking information online with the help of Privacy.com's virtual debit cards.
Slinging your credit card information all over the web may be the norm when you're online shopping, but playing fast and loose with those precious numbers is just begging for identity theft to happen. A new company dubbed Privacy.com thinks it has a solution to the problem. Instead of handing out your actual debit and credit card numbers, Privacy.com lets you create "virtual" debit cards that are locked for use with a single vendor, or "burner" cards that are valid only for one-time use.
If no one has your actual credit card, the thinking goes, then your credentials are safe from the next major database breach—or the one after that.
That basic idea has already gained interest from investors. The company announced in October that it had raised $1.2 million from investors, including Jim Messina, former White House deputy chief of staff and main driver of President Obama's 2012 re-election campaign. And the company's founders include Andy Roth, the former chief privacy officer for American Express.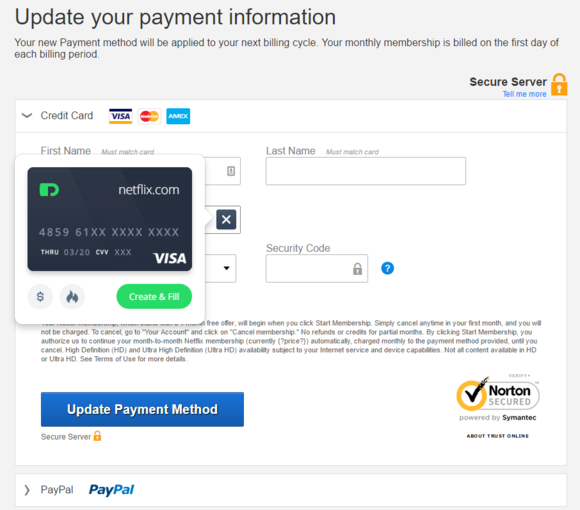 Privacy.com's auto-fill feature lets you create a new card without switching tabs.
Privacy.com is free to use and makes its money by taking a cut from the interchange fees that merchants pay to Visa and the banks. It works primarily as a web app in Chrome and Firefox (Safari and Internet Explorer support is coming soon), but there's an iOS app too. There's also a handy Chrome extension that can auto-detect payment forms to create a new temporary card in a few clicks without leaving the page.
Why this matters: Privacy.com is another example of the Internet coming up with solutions that just aren't practical in the physical world. Having multiple cards linked to your bank account and locked to specific vendors is a good way of reducing credit card fraud. An individual card is far less useful to thieves if all it can do is buy Netflix subscriptions or video games on Steam. Creating that system with plastic cards would be far too costly. A computer, however, can generate a card number and get into the payment system in seconds.
How it works
The sign-up process for Privacy.com is very simple. You start with an email and password, then add your name, address, and date of birth on the next screen. Finally, you connect your bank account to your Privacy.com account by handing over your banking account's username and password. Once that's done you're on your way.
You read that correctly. Right now, you can't use Privacy.com by connecting it to your debit card or using details from the bottom of a check. Only your bank login credentials will do.