Prose. 3.0.2 review: Safe haven for writers, far from maddening social media crowd
Prose delivers a social platform for the creation and consumption of literature in a completely censorship-free environment.
Navigating Prose. on the iPhone is a snap with the sidebar menu panel.
The Internet has made all manner of creative expression possible, such as personal blogs, tweets, Facebook posts, and YouTube videos. But modern communication methods are can be impersonal or entirely too personal, depending on the platform being used.
For writers, social networking is a conundrum: Elegant prose is often lost in the deafening roar of a million cat videos, first-world problems, and other mindless chatter — or worse yet, completely ignored because the author failed to find an audience in the first place.
Surely there must be some kind of middle ground, a platform designed for readers and writers alike to share their love of the written word free of advertising, social noise, and content restrictions. If this sounds like your kind of place, read on.
Prose as a verb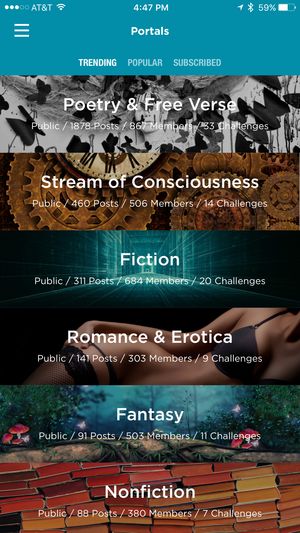 No matter what you're into, Prose. offers something for everyone, free from censorship as well as advertising.
Prose. allows anyone to be an author and publish on the go from anywhere using an iPhone or web app. The service is absolutely free and free of advertising of any kind, with writers retaining 100 percent copyright over original content.
The concept is to "break out of the fast-paced, mindless click-and-scroll conventions" of social networking we've fallen victim to. That's not to say Prose. turns its back on social; posts can still be bookmarked, reposted, commented upon, or shared like other social media apps.
The difference is how Prose. caters to two distinct but overlapping audience types. The first is Read, where users explore content, discover authors, participate in challenges (some with cash prizes), and subscribe to portals they're interested in, with categories like Poetry & Free Verse, Long-Form Prose, Reviews, Haiku, or Sci-Fi.
If you're also a writer, any content you've contributed appears in the Stream menu. Here you can see how many readers have viewed, bookmarked, and reposted, as well as comments which appear below the post. On the web app, there are sharing buttons for Twitter, Facebook, and email, but Prose. uses the built-in iOS 9 action extension on iPhone.
To be or not to be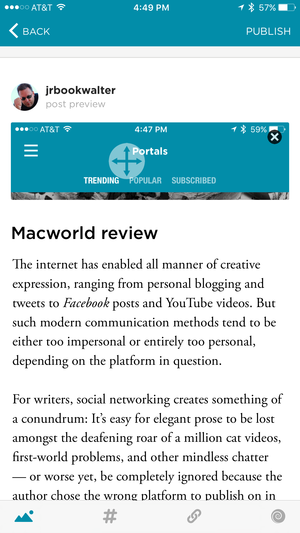 The iPhone app offers a separate preview mode where authors can add a header image, hashtags, links, or assign a portal.
The second mode, Write, provides a clean, distraction-free environment for authors. Posts are written in an elegant serif font, but can include an optional title in bold, sans-serif type. There are no options to change or import other fonts, but the apps include options for bold, italics, or underline styling.