Speedify review: Faster, more reliable Internet for your iOS devices
Speedify combines available cellular and Wi-Fi connections, seamlessly providing faster, more reliable Internet speeds from any iOS app.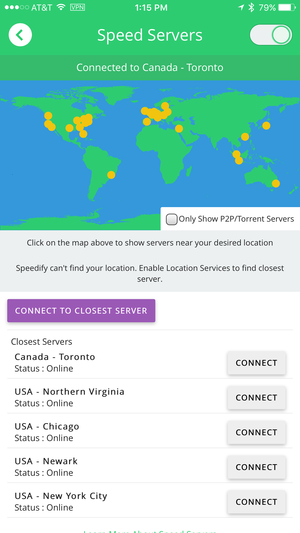 Speedify users can select the closest available VPN server, or manually select one from the provided list of choices.
In average use, the speed bump provided by Speedify is modest at best, but I immediately noticed the difference when streaming video. Services like Amazon Video started instantly, although Netflix doesn't work at all now that the service actively blocks VPN connections. While earlier versions would drop the connection when the device was idle too long, version 3.4 introduces support for persistent connectivity.
Speedify did smooth out a bump in my home wireless network, which uses a pair of linked AirPort Extreme routers for wider coverage. There's a known dead zone in my hallway right between the two routers, but Speedify successfully filled this brief gap using cellular connectivity, allowing downloads or streaming video to continue without missing a beat.
Bottom line
Speedify makes the most of any available internet connection, and it's easy to configure and use, but not necessarily the most reliable on iOS devices.