The best web browser of 2015: Firefox, Chrome, Edge, IE, and Opera compared
We put the screws to all five modern browsers, testing them in all manner of scenarios. If you're looking for a fast, efficient, convenient browser, we've found two that we think you'll like.
From our testing, Chrome and Firefox topped the Speedometer and WebXPRT tests, respectively. Perhaps unsurprisingly, Google was the fastest browser under the Google-authored Octane 2.0 benchmark. But Microsoft's Edge led the pack in the Jet Stream benchmark—which includes the Sunspider tests, which Edge led as well. (For all of the benchmarks, a higher number is better; the one exception is Sunspider, which records its score in the time it took to run.)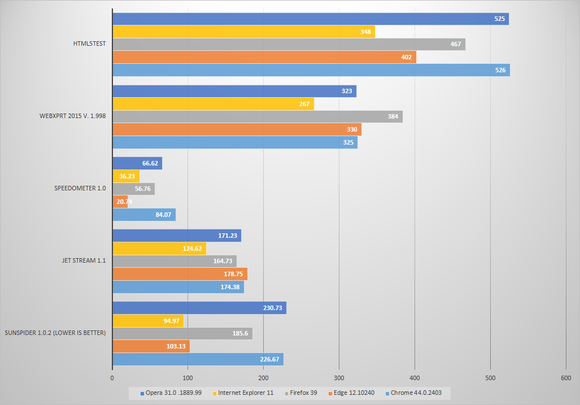 Google Chrome and Mozilla Firefox do well here. (A higher result is better, except for the Sunspider benchmark.) Click the image to enlarge.
What's surprising about Edge is that it led the pack in the Jet Stream benchmark, but fell way behind on Speedometer, only to record a quite reasonable score in WebXPRT. (Microsoft claims that Edge is faster than Chrome in the Google-authored Octane 2.0 benchmark as well, but our results don't indicate that.)
Chrome flopped on the Sunspider test; the only test Firefox failed equally miserably in was the Oort Online benchmark, which draws a Minecraft-like landscape using the browser.
For whatever reason, I noticed some graphical glitches as Edge rendered the Oort landscape, including problems drawing a shadow that slid across the bay in the night scene. But Oort proved even more problematic for Firefox, rendering "snow" as flashing lights and rain as a series of lines. (We've included the test result, but take it with a grain of salt.) Internet Explorer 11 simply couldn't run the Oort benchmark at all.
We also included the HTML5test compatibility test, which measures how compatible each browser is with the latest HTML5 Web standards. Although some developers focus extensively on each browser's score, even the test developer isn't too concerned:
HTML5test scores are less interesting to me than people think. Any browser above 400 points is a perfectly fine choice for todays web.

— HTML5test (@html5test) August 2, 2015
And the only one that fails that test, of course, is the semi-retired Internet Explorer 11.
What does all this mean? It doesn't indicate a clear win for any specific browser, including Chrome. Based on our benchmark tests, many of the browsers will handle the modern web just fine.
Real-world testing: Opera makes its case
Opera Software has always lived on the periphery, with what NetApplications says is just 1.34 percent of the worldwide browser market. With Opera considering putting itself up for sale, it may not be long for this world. But in terms of real-world browser performance, Opera is worth a long hard look while you still can.
Previous Page 1 2 3 4 5 6 Next Page