The best web browser of 2015: Firefox, Chrome, Edge, IE, and Opera compared
We put the screws to all five modern browsers, testing them in all manner of scenarios. If you're looking for a fast, efficient, convenient browser, we've found two that we think you'll like.
Why? Because in real-world browser tests, Chrome and Opera performed very well.
It's important to know how each browser will actually perform while surfing the live web. Testing this is a challenge—some canny Web sites constantly tweak their content, and ads will vary from one visit to the next. But we tried to minimize the time over which we visited each site to help minimize variation.
We used a selection of 30 live sites, from Amazon to CNN to iMore to PCWorld, as well as a three-tab subset of each, to see how performance scaled. Our tests included adding each site to a new tab, one after another, to weakly approximate how a user might keep adding new tabs—but quickly, so as to stress-test the browser itself. Finally, we evaluated them with Adobe Flash turned on and off. (Both Opera and Firefox don't natively ship with Flash, so we tested without, then downloaded the Flash plugin.)
After loading all 30 tabs, we waited 30 seconds, then totaled the total CPU and memory consumption of both the app itself, the background processes, and the separate Flash process, if applicable.
So what does all this mean? If you own a mid-range and low-end PC, you might have purchased one without a lot of memory, or with a less powerful CPU. In that case, you might consider switching your browser to something that's more efficient.
This chart contains a lot of information; you can click it to enlarge it. But what you should focus on are the differences in memory consumption (the yellow bars) and the differences in CPU consumption. We've included the raw data in a table at the bottom of the chart. In each case, a lower number indicates a more efficient browser, with the one exception being Firefox (with Flash)'s zero scores, which we'll cover below.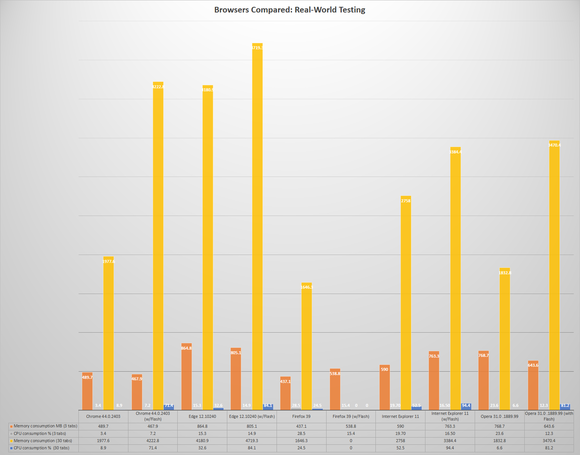 Oddly enough, we noted an actual decrease in CPU consumption when Flash was enabled on the three-tab test, specifically within Edge, Firefox, and Opera—perhaps because the Flash plugin was more efficient at lighter workloads. As our previous report indicated, however, CPU and memory consumption soared when we started throwing tab after tab at each browser.
The other discrepancy that you may note is that Chrome, with Flash enabled, consumes nearly the memory that Edge does without Flash enabled. We double-checked this, but we did so on another day, where Edge's memory consumption was even higher than what we recorded. (That's probably due to just a difference in the ads and video the sites displayed.)
Chrome has a reputation for sucking up all the memory you can throw at it, and these numbers prove that out. But it also consumes relatively little of your CPU—which, if you scale down your tab use, makes its impact on your PC manageable. Opera, however, really shines. In fact, without Flash, Opera consumed just 6.6 percent of the CPU and 1.83GB of RAM during our stress test. With Flash on, Opera consumed 3.47GB of memory and 81.2 percent of my computer's CPU.
Previous Page 1 2 3 4 5 6 Next Page