The price of free: how Apple, Facebook, Microsoft and Google sell you to advertisers
Here's what popular services like Apple, Google, Facebook, and Microsoft collect -- and what you can do about it.
Jumping from Windows 7 directly to Windows 10 has to be something like a farmer visiting Times Square. Live Tiles flash and move. A nice assistant named Cortana always hovers nearby. Click on the wrong spot and you could be whisked away elsewhere on the Web. And there are always people asking who you are, where you live, what you like...
Because the latest version of Windows is always asking for information in the guise of being helpful, it's easy to think that Microsoft's the poster child for the collective attack on your digital privacy. But it's not.
In fact, there are plenty of other companies who feel perfectly entitled to require you to hand over your personal info before they open their doors. On a day where Microsoft clarified what it does with your data to try and soothe your fears, a Bloomberg feature profiled Facebook's "unblockable" ads, while a new Google program revealed that advertisers can now tune ads to who you are just by knowing your email address.
This is the price of free: free email, free operating systems, free connecting with friends, free search. And while Microsoft has thrown itself on the ground, begging for forgiveness, you can make the argument that other companies are doing as much or more to mine your data. Let's take a look.
Facebook
"...Facebook trackers are just about everywhere on the Internet. But because most of Facebook's 1.49 billion users routinely access the service through an app, the ads cannot be hidden using one of the many blocker tools now topping the download charts on Apple's App Store." - Bloomberg
At this point, Facebook represents its own self-contained ecosystem. Want to share baby pictures? Ping a friend to meet up after work? Chances are that you're making those connections on Facebook—connections that Facebook knows and can exploit for its gain.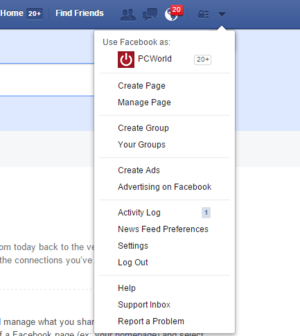 Track your own history with Facebook's Activity Log. Credit: Mark Hachman
The latest? Facebook is now pitching a program by which advertisers can market their products across TV and Facebook as a unified whole, so that a trailer for the latest James Bond movie, for example, might run at halftime of "Monday Night Football"—or on news feeds of users who have "liked" a previous Bond flick. And if that's not enough, advertisers will also gain the power to poll you about what you thought of them.
What information does Facebook collect? It's no secret that there's little "privacy" in Facebook's privacy policy. Here's a snippet: