The price of free: how Apple, Facebook, Microsoft and Google sell you to advertisers
Here's what popular services like Apple, Google, Facebook, and Microsoft collect -- and what you can do about it.
"We collect the content and other information you provide when you use our Services, including when you sign up for an account, create or share, and message or communicate with others. This can include information in or about the content you provide, such as the location of a photo or the date a file was created. We also collect information about how you use our Services, such as the types of content you view or engage with or the frequency and duration of your activities."
Facebook knows your friends, what information you provide about them, what they say about you, what other sites you visit (if they include a Facebook "like" button, which most do), what you bought, what device you used to access Facebook, and much more.
What can I do about it? It's an amazing amount of information, although you can download it all right here, using Facebook's Download Your Information tool. You can also check your Activity Log to see exactly what you've done since you've joined the service. Note that the latter choice is far less complete than the Download Your Information tool. You can also delete your account, but Facebook reserves the right to keep information that others have shared about you. Because to Facebook, that information isn't yours.
Google
Google has become the de facto name in search (although I've since switched to Bing) and Gmail, Google Maps, and its other services now rank among the leaders in those categories. But all that "free" adds up to a huge amount of your personal information being traded away to create personalized, targeted ad experiences.
The latest? Google has launched a program by which your profile is now keyed to your email address. Dubbed Customer Match, the program ensures that an advertiser's "brand is right there, with the right message, at the moment your customer is most receptive," Google promises. So if you've previously asked a travel site to send information to your Gmail address, that site can sign up for Customer Match. Then when you're watching YouTube, that site "can show ads that inspire them to plan their next trip."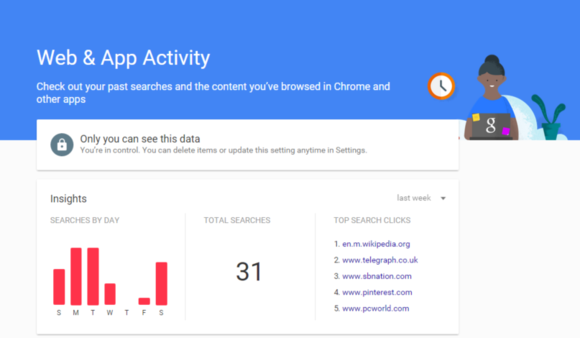 Google buries information about what you do on the Web all over this place, including your Search History. But does anyone ever bother digging it up?
Earlier this month, Google added native Gmail ads for all of its AdWords customers, meaning that you'll end up with interest-based advertising in your inbox unless you opt out.
What information does Google collect? As with Facebook, there's a ton: name, email address, telephone number, credit card (if you enter it), details on how you use Google's services, how you interact with other websites that use AdWords and other Google technologies, your device, search queries—the list goes on and on. Google will also store information in your browser via local browser storage—that goes beyond the snippets of code commonly referred to as "cookies".
Previous Page 1 2 3 4 5 Next Page