The price of free: how Apple, Facebook, Microsoft and Google sell you to advertisers
Here's what popular services like Apple, Google, Facebook, and Microsoft collect -- and what you can do about it.
And if your information is "public," it's fair game. "If other users already have your email, or other information that identifies you, we may show them your publicly visible Google Profile information, such as your name and photo," the policy states.
If there's one thing that I don't see in Google's privacy policy, it's a portion that's specific to Android.
What can I do about it? Google actually allows quite a bit of freedom to tailor what information you provide to it—although it's betting that just a tiny fraction of you will ever access it, let alone limit that information. But it's all here in the Google privacy policy: tweaks to allow you to turn off location tracking, voice searches, and other features; viewing and editing your preferences; adjusting your public profile; and much more. And you can download Google's data hoard, too.
Apple
Apple may have said that it's making it very clear how it's using your data, but you'll probably agree the way it does so is far more obtuse than the other companies we've listed here.
The latest? The news surrounding Apple isn't so much how it's using your data, but how it's preventing content companies from having the same access. Its controversial ad blocking technology built into the latest version of iOS 9 has roiled the advertising and media world alike. Part of this, of course, is that Apple makes the majority of its sales on hardware and app sales—not advertising—so it can take the high road.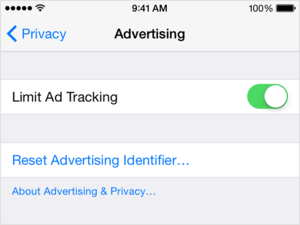 Here's how to turn off ad tracking in iOS9... Credit: Mark Hachman
What information does Apple collect? Apple's "privacy policy" can be summed up in three words: "We're for it." The policy doesn't do a great job explicitly listing what information it collects, most of it goes into more detail into what it doesn't collect. In all fairness, Apple appears to do a good job linking your preferences to an intermediary, anonymous series of ID numbers (sometimes linked to the Siri digital assistant) rather than "knowing" it is you.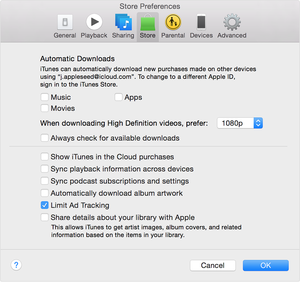 ...and in iTunes. Credit: Mark Hachman
Apple does say, however, that it will collect certain information such as your name, contacts, and songs in your music library, and send them to Apple servers using encrypted protocols.—including your location, if that service is turned on. And your iPhone sends your anonymized location and calendar information, so it can predict when you'll have to leave to make your next appointment. Apple Music also links your preferences to an anonymous ID, and the News app uses your reading preferences to supply ads within the app.
Previous Page 1 2 3 4 5 Next Page