The price of free: how Apple, Facebook, Microsoft and Google sell you to advertisers
Here's what popular services like Apple, Google, Facebook, and Microsoft collect -- and what you can do about it.
What can I do about it? For all of its holier-than-thou attitude towards advertising, Apple doesn't put the process to opt out of targeted advertising front and center. Time and again, Apple says that you can reset the identifier it uses to link you to the content you want to see, or opt out; however, that process is left to the user to discover for himself or herself.
Microsoft
Microsoft's a bit different than Facebook, for example, in that it owns your operating system as well as its associated services. That means that it can peer into your OS and discover that a particular graphics driver was at fault, as the company pointed out in a blog post on Monday. During the runup to Windows 10, I complained about a driver issue (specifically a borked Intel 802.11ac W-Fi driver) on Twitter. Coincidentally or not, I was pushed a new driver the next day.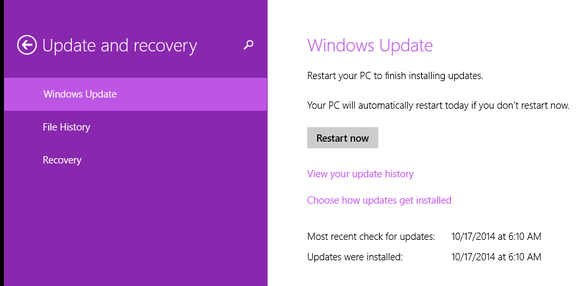 Allowing Microsoft to see what's inside your PC isn't always the worst idea, as updates can be tailored to your PC's particular hardware. Credit: Mark Hachman
Microsoft admits to collecting information to personalize your experience, but says it does not scan your email to collect that. "Unlike some other platforms, no matter what privacy options you choose, neither Windows 10 nor any other Microsoft software scans the content of your email or other communications, or your files, in order to deliver targeted advertising to you," Microsoft senior vice president Terry Myerson wrote in a blog post.
What information does Microsoft collect? Microsoft also does a good job comprehensively spelling out what information it collects: name and contact data, credentials, demographic data, payment data, and more. But don't buy the line that Microsoft doesn't read your email—the privacy policy states very clearly that it does. It not only reads the subject line and body of an email, but also the text or other content of an instant message, the audio and video recording of a video message, and the audio recording and transcript of a voice message you receive or a text message you dictate. It just doesn't sell ads against it.
There's also an additional layer of input that Microsoft samples, because it is an OS.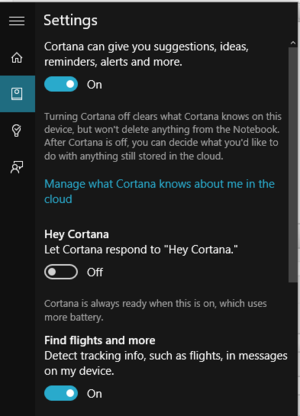 If you'd like, you can turn features like Cortana off.
"Additionally, your typed and handwritten words are collected to provide you a personalized user dictionary, help you type and write on your device with better character recognition, and provide you with text suggestions as you type or write. Typing data includes a sample of characters and words you type, which we scrub to remove IDs, IP addresses, and other potential identifiers. It also includes associated performance data, such as changes you manually make to text as well as words you've added to the dictionary."
Previous Page 1 2 3 4 5 Next Page