Web browser showdown: Which Windows app is really the best?
Your Web browser is probably the most-used application on your PC. You check your email in it, you write in it, you collaborate with coworkers in it, you use it to watch cat videos. With so much at stake, you need a browser that works well for you.
Current browsers continue the less-is-more trend that began with Google Chrome's introduction in 2008, sporting thin toolbars and minimalist designs so that the page content takes center stage.

Browser toolbars compared: Firefox, Internet Explorer, Chrome.
Internet Explorer 9: In IE 9, Microsoft chose a hyperminimalist approach with an extremely narrow toolbar and few on-screen controls. By default, IE 9 shows the address bar and tabs in the same row, which can make things a little too tight, especially if you frequently have a lot of tabs open at once (you can choose to show the tab bar in a separate row, though). On the far-right edge of the toolbar lie three buttons that take you to your browser homepage, show your favorites, or toggle various settings.
One nicety in IE 9 is its unobtrusive method of providing notifications: Instead of popping up an alert box that interrupts your browsing, it displays the message in a bar at the bottom of the browser window, where you can address it when you're good and ready. In addition, IE 9 shows you a download's progress via its taskbar icon, which fills in with green as you download a file.
Chrome 21: Google has stuck with the same basic look and feel for Chrome since releasing it in 2008. It has no title bar, and by default it shows only the back, forward, and reload buttons, as well as the combined search/address bar and a button on the far right that opens a tools menu. The start screen helps you reach your most visited sites, as well as any Web apps you've added via the Chrome Web Store. When you download a file, it appears in a gray bar that lives at the bottom of the window.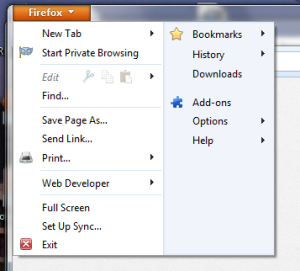 Click the orange button in the upper-left corner of any Firefox browser window to access frequently used commands.
Firefox 15: While most other browsers now feature a combined search and address bar, Mozilla keeps the two separate in Firefox 15. Whether separate fields are better than combined ones is a matter of personal preference.
One convenient feature of Firefox allows you to switch between search engines readily: If you want to use Bing instead of Google, for instance, you can do that with two clicks. Chrome permits you to switch between search providers, too, but requires a quick tweak in the Settings screen. With IE you need to install an add-on for each search provider (other than Bing) you want to add.
Like other current Windows browsers, Firefox doesn't show a menu bar by default; the various menu options live in a single menu that pops up when you click the orange 'Firefox' button in the upper-left corner of the window.
Previous Page 1 2 3 4 Next Page