Welcome to the new Tumblr: cat GIFs and more ads
Yahoo will monetize the popular platform to justify its $1.1 billion price tag. And that means: More ads.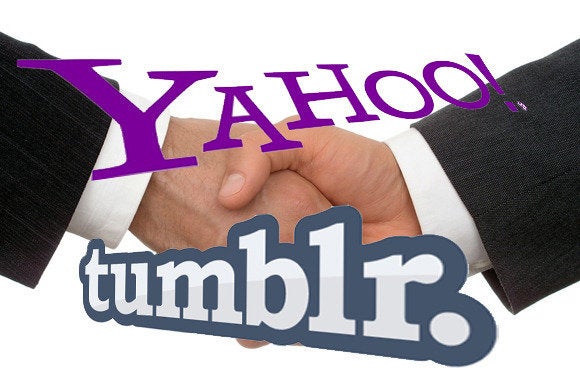 Yahoo won't ruin Tumblr, CEO Marissa Mayer says, but Tumblr users are understandably skeptical of that promise. Yahoo has a history of buying popular properties (Flickr, Delicious) and letting them wither away. But Tumblr will change. It has to. Yahoo must monetize the popular platform to justify its $1.1 billion price tag. And you know what that means: More ads.
What to expect in the Age of Yahoo
Tumblr has been experimenting with advertising for the last year, though founder David Karp has in the past expressed his strong dislike of online ads. Tumblr currently allows promoted posts on desktop and mobile version of the site and has experimented with interactive brand campaigns, but that's it--so far. In a Monday morning conference call, Mayer said the company will be experimenting with different ways to advertise, including ads within users' dashboards--Tumblr's version of a news feed, which only bloggers see, not viewers. Another possibility involves Yahoo partnering with bloggers to display targeted ads on blogs. Mayer said bloggers would have to give permission for that to happen.
Native ads (also known as sponsored posts that look like real content, but are actually paid advertising) are all the rage these days, but Tumblr has struggled to make those ads translate into revenue. The power of Yahoo's massive sales team could change that.
But any increase in advertising should be incremental and intuitive for Tumblr's existing community. Mayer risks alienating the kids Yahoo desperately needs to make the company relevant again. Slowly rolling out more dashboard ads and partnering with bloggers who want advertising to turn their blogs into money-makers is a good strategy for Yahoo, says Gartner analyst Brian Blau.
"I think this is exactly the right thing that Yahoo should be doing," Blau says. "They don't want to ruin the business right now. They don't want to come in and take away the great experience. They want to help propel it. They want to help them scale infrastructure, design, everything that Tumblr doesn't have because it's a small company."
Tumblr founder David Karp took to Tumblr (of course) to reassure bloggers that the Yahoo deal will be a boon for the company.
"We're not turning purple," Karp wrote in a Monday blog post. "Our headquarters isn't moving. Our team isn't changing. Our roadmap isn't changing."
More ads, but also more GIFs
Don't expect any big shifts, at least not in the near term. Mayer doesn't want to alienate the community Tumblr has built, particularly because that young user base is exactly why Yahoo paid big bucks for the site.