The essential guide to powerline Ethernet adapters (including 12 hands-on reviews)
Powerline Ethernet adapters that use your home's electrical wiring are great supplements to Wi-Fi networks. We sort through the standards, HomePlug and G.hn, and review 12 models.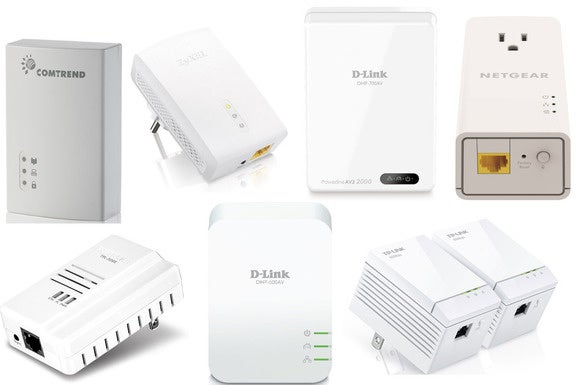 Editor's note: This roundup of powerline ethernet adapters is continually updated. It was originally published on January 15, 2015, updated in March and again in June 2015 and now again in early September. Click here if you would like to read that original story as published in January 2015. This latest iteration contains entirely new reviews of the Extollo LANsocket 1500 and TP-Link TL-PA8030P KIT, plus updated reviews of the D-Link DHP-701AV and the Trendnet TPL-420E2K.
The powerline networking landscape continues its rapid evolution with a couple of new groundbreaking products based on the state-of-the-art HomePlug AV2 MIMO standard. The Extollo LANSocket 1500 adapter kit has edged out the previous speed champ—the D-Link DHP-701AV—while the TP-Link TL-PA8030P kit caters to people who need to add multiple devices in the same location: Each of its adapters has three ethernet ports instead of just one. This feature could be very useful for home-theater applications.
The new wave of products also highlights two tiers of HomePlug AV2 MIMO performance. The two fastest performers are based on Broadcom chips that operate on the full frequency range AV2 MIMO supports, 2-86Mhz. These adapters are significantly faster than competitors based on chips that operate in a narrower, 2-68Mhz range. However there's some question on whether the faster products will perform as well in a noisier electrical environment than mine, which was wired in the mid 1990s.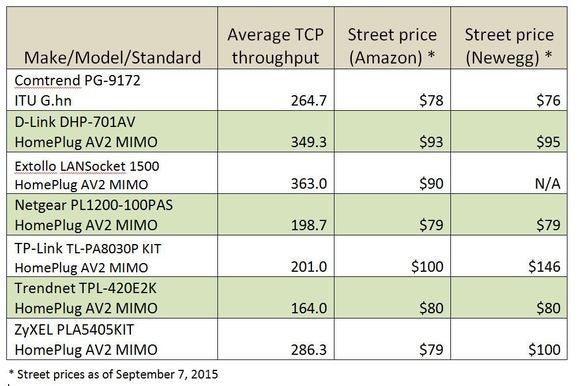 Benchmarks and prices of the top performers. Click on image to enlarge.
In my previous testing I looked at a couple of other HomePlug AV2 MIMO products as well as a Comtrend kit that was the first retail product based on a competing, less familiar powerline standard called G.hn.
HomePlug and G.hn both define a method for carrying data—including audio and video—over standard electrical cables. This enables you to use existing wires in your home as a data network. HomePlug is based on the IEEE 1901 and IEEE 1905.1 standards, while G.hn is based on the competing ITU G.9960 standard. In addition to using power lines to form a network, G.hn also supports using telephone wiring and coaxial cables.
G.hn and the latest version of HomePlug—HomePlug AV2 MIMO—use a variant of the multiple input/multiple output technology you'll find in 802.11n and 802.11ac network devices. Using MIMO, a powerline device will utilize all three wires in an electrical cable, transmitting data on any two pairs: Line/Neutral, Line/Ground, Neutral/Ground, and so on to achieve theoretical TCP throughput of up to 1.2Mbps. Earlier HomePlug devices transmit using only the Line and Neutral wires; SISO (Single Input, Single Output) HomePlug AV delivered maximum throughput of 600Mbps.