The essential guide to powerline Ethernet adapters (including 12 hands-on reviews)
Powerline Ethernet adapters that use your home's electrical wiring are great supplements to Wi-Fi networks. We sort through the standards, HomePlug and G.hn, and review 12 models.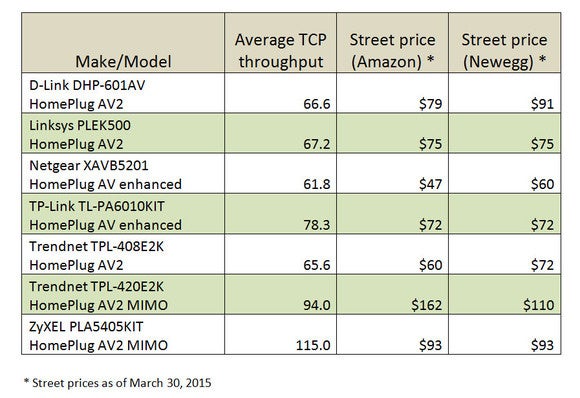 Price and performance of older HomePlug AV adapters (the ZyXel is the first HomePlug AV2 MIMO adapter we tested). Click on image to enlarge.
HomePlug AV2 MIMO
This illustration provided by the HomePlug Alliance shows how MIMO works when applied to powerline networking.
You should be aware that real-world performance is considerably lower in both cases. Also, your home must have three-prong outlets to get the full benefit from MIMO. HomePlug AV2 MIMO adapters will work with two-prong outlets, but they'll fall back to SISO mode (single input/single output) and deliver less throughput.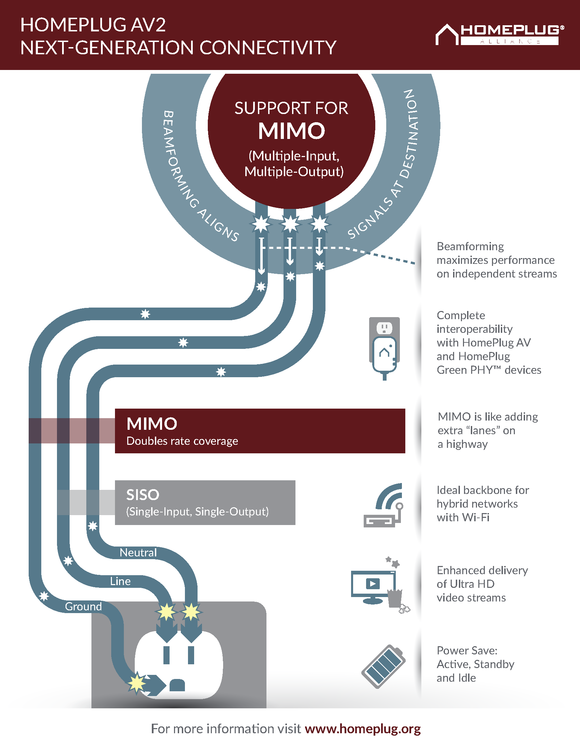 This illustration provided by the HomePlug Alliance shows how MIMO works when applied to powerline networking. Click on image to enlarge.
No mixing: HomePlug and G.hn are incompatible
Powerline networking can be faster and more reliable than Wi-Fi when you need to serve client devices that are behind very thick walls—particularly concrete or masonry—or that are multiple stories away from your router. But the two powerline standards discussed here are not interoperable, so choose one or the other.
To create a powerline network, plug one adapter an AC outlet near your router and connect it to your router using an ethernet cable. Plug other adapters into AC outlets near the devices you want to add to the network, and then connect those devices to the adapters using ethernet cables. Don't plug the adapters into outlet strips or surge protectors, as those devices might consider the data packets traveling over the wire to be noise and filter them out.
Powerline ethernet adapters
The D-Link DHP-601AV, Linksys PLEK500, Netgear XAVB5201, TP-Link TL-PAV6010KIT, Trendnet TPL-408E2K, Trendnet TPL-420E2K were tested in one residence. The Comtrend PG-9172, D-Link DHP-701AV, Extollo LANsocket 1500, Netgear PL1200-100PAS, and TP-Link TL-PA8030P were benchmarked in a second residence. The ZyXel PLA5405 was tested in both homes.
My testing also suggested that powerline performance varies widely depending on the location of the adapters. Each product was much slower when the adapter connected to the router was further away from the adapter attached to the client, although their performance relative to each other didn't change.
While the HomePlug Alliance certifies powerline products bearing the HomePlug brand as interoperable, that doesn't mean you'll get optimal performance from a network formed by a mix of HomePlug AV2 MIMO brands. When I connected D-Link's DHP-701AV adapter to my router and connected the client computer to Netgear's PL1200-100PAS, I saw significantly degraded performance compared to using the same brand at both ends. Interestingly enough, I saw much better performance in the reverse scenario: The Netgear connected to the router and the D-Link on the client end. Bottom line: No matter which powerline product you choose, stick with one standard and one brand.