The Ethernet community is working to introduce six new rates in the next 3 years
New rates are targeted at applications vs. the historic approach of turning the crank.


Figure 2- Technology Choices to 400GbE. (Click on image to enlarge).
While the debates on the different technologies to enable 400GbE were underway, another dynamic was emerging. The development of 25Gbps signaling to support 100GbE, including operation over backplanes, copper twin-axial cables and multi-mode fiber, led to the recognition that 25GbE-based servers, using 100GbE for networking, could be used in the same fashion as 10GbE and 40GbE and drive the next generation of the hyper-scale data centers. The standard to make this leap will be completed shortly.
With the impending completion of this standard, and the rapid pace by which hyper scale data centers are looking to grow, it was recognized that, once again, a higher speed Ethernet was needed for the next generation of servers beyond 25GbE. And with the new 50Gbps signaling technologies being developed to support 400GbE, the choice is clear – 50GbE.
It raises another question, though: what would be the right networking solution? Considering the success of 10GbE/40GbE, and the anticipated deployment of 25GbE/100GbE, it has been recognized that the optimal solution for servers is the highest serial signaling rate, while using a networking solution based on 4x this serial speed. Thus, the industry is now in the initial stages of starting the development of 50GbE and 200GbE.
Figure 3 illustrates what has emerged for the Ethernet industry. As discussed, Ethernet is no longer developing a single Ethernet rate to be applied everywhere and to everything. Instead, families of Ethernet rates, based on signaling rate technologies, are emerging. The base signaling rate and its quad: First generation is 10GbE and 40GbE; The next generation is 25GbE and 100GbE; And the latest generation of 50GbE and 200GbE.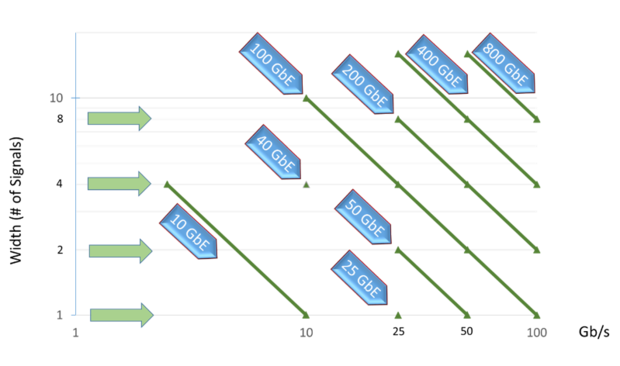 Figure 3- The Generations of Ethernet
As one looks at Figure 3, solutions based on 2x and 8x are logical and are emerging. And, as noted, 100Gb/s PAM4 optical signaling is in the development stage, thus a fourth generation data center architecture is clearly on the horizon. Furthermore, if one considers the development of an 8x solution, based on 100 Gbps, the next speed of Ethernet beyond 400Gbps is clearly 800Gbps.
Ethernet is continuing to evolve and the days of focusing on the development of a single speed are gone. Now, we see the industry focusing on multiple rates of Ethernet, intent on leveraging the investment in the next generation of signaling technologies to enable these multiple rates.
John D'Ambrosia chairs the Ethernet Alliance, a global consortium committed to the success and expansion of Ethernet technologies. He is also senior principal engineer at Huawei.