Wemo Wi-Fi Smart Dimmer review: Smart lighting, plus a snazzy dimmer
This in-wall dimmer switch gives your room an instant upgrade.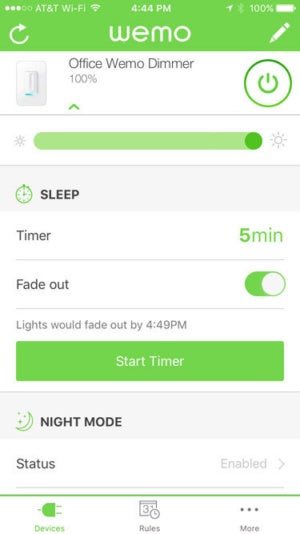 The Wemo app lets you establish lighting schedules, control other Wemo devices, and more.
If you have additional Wemo devices, you can set them up to work in tandem with the Dimmer, by setting up a "long press" rule in the app. This can be quite handy if you have additional lights in a room that aren't connected to the wall switch. A long press can turn on the overhead light, and also control the two lamps in opposite corners—provided they're connected to Wemo smart plugs.
Want to connect to other devices? The Dimmer supports Nest, Alexa, Google Assistant, and IFTTT. Because it's a Wi-Fi device, you don't need a smart home hub to make any of these connections work. I set it up with an Alexa skill in minutes, and was quickly able to dim the lights by voice command. Compatibility with Apple's HomeKit ecosystem is noticeably absent here, but Belkin says it's working on it.
At a heady $80, the Wemo Dimmer isn't going to be a low-budget upgrade to your home. That's more expensive than a smart light bulb, and it's probably pricier than your ceiling light fixture. But the device works perfectly, and the switch's thoughtful extras—like multi-device control and broad smart home integration capabilities—add to its overall value proposition.