6 iOS features Android N borrowed—that Apple should steal back
Android N's developer preview just rolled out, and brought with it several features found in iOS—only updated.
To say there's some overlap between iOS and Android is an understatement. Google scrapped its original mobile OS concept and pivoted to a touch-based mobile operating system only after Steve Jobs showed off the iPhone, and has been borrowing features from Apple for years ever since—shamelessly taking things like Siri, Do Not Disturb, and Touch ID and giving them the Android treatment.
Of course, Apple is by no means blameless when it comes to pilfering from the other side. Third-party keyboards, widgets, and the Control Panel were all popular Android features before they were borrowed and adapted for iOS. Much like the Windows-Mac wars, each side seems to have an understanding that the march toward a perfect OS requires a little give and take.
The last Android release, which surprisingly landed in developer's hands earlier this month, is no exception. But this time around, it's less about features than it is about how they're implemented. iOS 9 was about refining the experience, and it looks like Google's taking a similar path with Android N—while much of what's new is already baked into key components of iOS, Google has brought some impressive ideas to the table, reimagining and elevating some of Apple's best features in clever and unique ways. And I hope Apple steals a few of them back.
Window shopping
Galaxy users will argue that Samsung implemented split-screen apps long before Apple did, but by no means is iOS 9's Split View a "me, too" feature. Elegantly executed with careful precision, side-by-side apps in iOS 9 brought mobile multitasking on the iPad to the next level, finally bringing the productivity and focus users have been clamoring for. It's a great feature, both in TouchWiz and iOS, and it's no surprise that Google is bringing it to Android proper.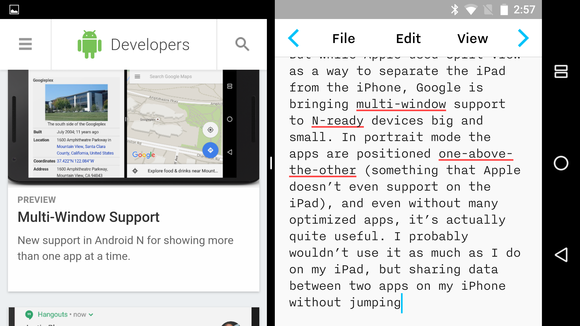 Android N's multi-window mode, side-by-side.
But while Apple used Split View as a way to separate the iPad from the iPhone, Google is bringing multi-window support to all N-ready devices big and small. In portrait mode, the apps are positioned one above the other—something that Apple doesn't even support on the iPad—and even without many optimized apps yet, it's actually quite useful. I probably wouldn't use it as much as I do on my iPad, but sharing data between two apps on my iPhone without jumping back and forth through the multitasking carousel would be a great addition to Split View in iOS 10.
The dark side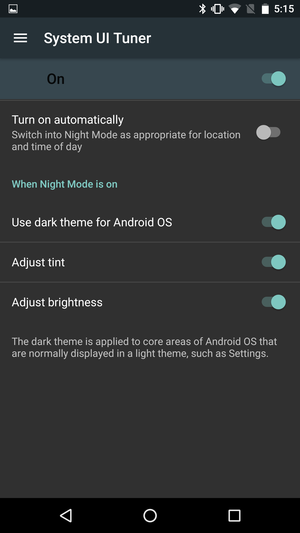 I love Android N's dark mode, which is part of Night Mode.
Apple didn't really beat Google to the color-warming punch—Night Mode was a feature in the Android M beta that didn't make it to Marshmallow—but iOS 9.3's Night Shift technically brought the feature to iOS first. But no matter who gets the first-place crown, the temperature-adjusting trend started by Mac and iOS app f.lux is about to hit the mainstream, and screens on both sides of the aisle are about to get a lot easier on the eyes.