6 iOS features Android N borrowed—that Apple should steal back
Android N's developer preview just rolled out, and brought with it several features found in iOS—only updated.
On iOS, Apple's implementation is fairly straightforward. A toggle turns on blue-light reduction and a slider adjusts how yellow your screen will appear. Additionally, you can set a schedule for what time the color will change each day or turn it on manually using a new button in the Control Center.
Android N does things a little differently, applying reset filters to adjust the tint and brightness. Rather than utilize a schedule like Night Shift, Android will switch on Night Mode automatically if you desire, based on your location and time of day. But the part I want Apple to borrow is the dark theme, which turns all the white bits of Android black when Night Mode switches on.
Picture this
Picture in Picture was one of the most surprising features in iOS 9, bringing a taste of real OS X-style multitasking to the iPad. If you're watching a video or making a FaceTime call, you can still write an email or surf the web, shrinking the video screen to a small floating window that can be moved anywhere on the screen.
Android N's version is a bit different. Instead of designing the feature for tablets or smartphones, the beta version of Google's own PIP window is limited to Android TV, where you can use other apps without interrupting your movie. Back in the 80s, PIP was a big deal on our TVs, and Android just might be onto something here.
Nap time

Android N's Doze is a major battery saver.
Until the batteries in our phones can charge themselves kinetically or become big enough to comfortably last a full day, each new OS version is going to include ways to squeeze every last bit of juice out of the ones we have. iOS 9's Low Power Mode sacrifices performance for battery life, turning off things like background app refresh and Hey Siri when it's activated (usually when the battery drops below below 20 percent).
Android introduced its own battery-saving feature in Marshmallow called Doze, but unlike Apple's version, you don't need to turn it on. Instead of limiting the things your phone does, Doze kicks in when your phone is idle and stationary, supercharging standby mode but not doing too much to help throughout your day. In Android N, Doze activates anytime the screen is turned off, even when it's in your pocket. I'm sure Apple is already working on better battery-saving features to unveil at WWDC, and this is one I wouldn't mind seeing make its way into iOS 10.
Quick take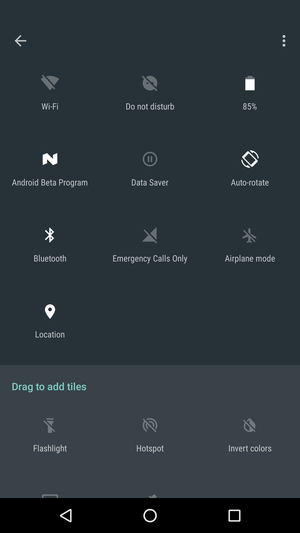 Settings, as seen in Android N.