6 iOS features Android N borrowed—that Apple should steal back
Android N's developer preview just rolled out, and brought with it several features found in iOS—only updated.
The way Apple and Google approach quick settings are about as opposite as you can get: In Marshmallow, you need to swipe down from the top of the screen; in iOS, the Control Center is accessed by swiping up from the bottom. But while you may assume Android's quick settings can be customized to your heart's content, that's not really the case—users needed to access the hidden System UI setting if they want edit the icons that are visible.
But Google has taken a page from iOS in version N. A single swipe down immediately reveals a set of five icons, and if you swipe a second time you'll be able to edit the ones that appear as favorites. It's a neat feature that I'd love to see in the Control Center (honestly, I can't remember the last time I used the Bluetooth toggle), but that's not what piqued my interest the most. Google has also opened up its quick settings API to developers, allowing for third-party shortcuts to be added to the menu. Apple has shown a willingness for button customization with Apple Watch's complication and 3D Touch's quick actions, and I'd love to see developers can do with the keys to the Control Center.
Back in time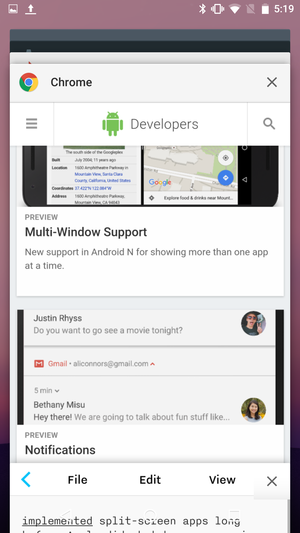 Android's N multitasking button is much welcome.
Ever since we've been using our phones for more than text messages and calls, there's been a struggle to quickly switch between apps—specifically the one we were just using. Beyond the handy card-filled carousels, both Apple and Google have developed shortcuts in the way of back buttons; Android's permanent button below the screen goes back one step (which may or may not actually return to the last used app) while iOS 9 introduced the handy "back to" button that appears in the status bar).
Google apparently took notice of Apple's more practical method and has replicated the quick return in Android N. But instead of only appearing when needed, Google baked the functionality right into the existing multitasking button; when you double tap the square icon below the screen, you'll instantly be sent back to the last app you were using, even if you're on the home screen. Apple has always been ahead of the curve when it comes to mobile navigation, but this is one feature that would make a world of difference on iOS, especially if you've ever tried to hit the "back to" button with your thumb.
Are there any Android features you'd like to see Apple bring to iOS? Let us know in the comments below.
Previous Page 1 2 3