Apple offers iWork importing details for iOS devices
In addition to updating its mobile iWork offerings to work on the iPhone and iPod touch, Apple also posted new and revised support documents for Numbers, Pages, and Keynote, with much of the support information focusing on converting a Mac iWork document to an iOS-supported version.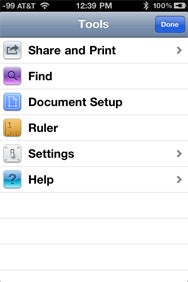 • Folders: From the Documents screen in any iWork for iOS app, you can organize your documents into folders. To create a folder, simply drag one document icon over another—just as you do for apps in the iOS Home screen.
• Exporting and importing The options to export a document (such as Email Document, Send to iTunes or Copy to WebDAV) have been moved to a more convenient location. You now select to export while a document is open, rather than needing to return to the main Documents screen. Just tap the Tools menu and select the Share and Print item (as seen in the figure on the right). Importing documents is still handled from the Documents screen—via tapping the plus (+) icon at the top left.