Four ways to make the Dock more powerful
Quickly access files and folders with this overlooked OS X tool
This can be especially helpful if you choose to sort the contents by Date Added; when you add a new item, it will be on top. For example, with your Downloads folder, you'll see when new items arrive.
3. Set options for folders and stacks
When you've chosen which folders you want to display as stacks, and which you want to show as folders, you're ready to start changing other options. In the settings menu, shown above, you see that you can view the contents of any folder as a Fan, Grid, List, or Automatic. These settings apply when you click on a folder or stock. Which one you should pick depends on the folder's content:
Fan Choose this option and when you click on your folder its contents will "fan" up in an arc. This is a good option if you only have a few items in the folder or stack; otherwise, you may have to click on a "More in Finder" button to see the rest of the items. You can use the Up- and Down-, or Left- and Right-arrow keys to move through the fan.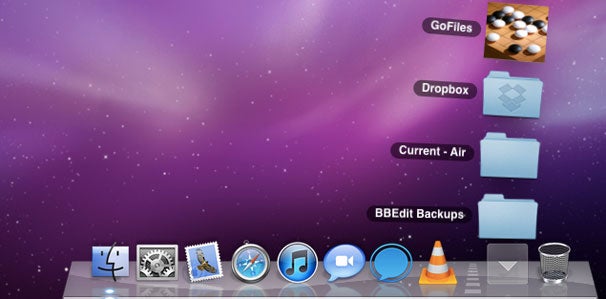 Fan view
Grid This shows all the icons that can fit on your screen, and includes scrollbars, when necessary, so you can scroll down to see additional items. In Grid view, you can use your keyboard to select items. For example, if you have your Applications folder set up to display in Grid view, click on its icon, then type "SAF" to select Safari, type "M" to select the first application whose name begins with "M," and so on. Just press Return to launch the selected application. You can also use arrow keys to navigate in Grid view.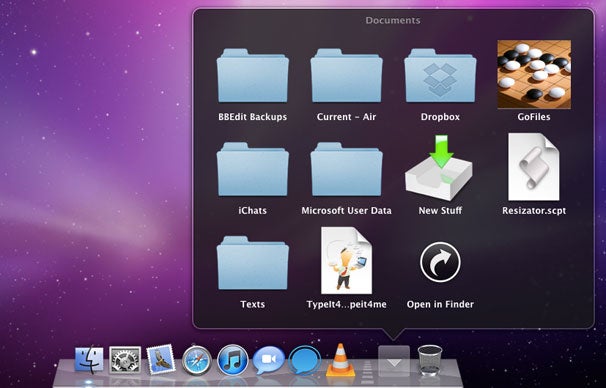 Grid view
List This is a compact list of items in the folder or stack. The thumbnail image is small and only shows each item's file type—not an image of the file's contents. Typing letters to select items works in this view as well.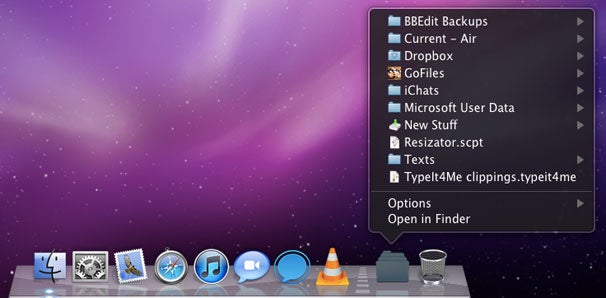 List view
Automatic This option is the default. It displays Fan view when there up to nine items in a folder or stack, and Grid view if there are ten or more.
4. Add a Recent Items stack to the Dock
Instead of having to add new files and folders to the Dock as you need them, wouldn't it be great to be able to quickly access the files and applications you've used recently? It's easy to do just that by adding a special stack to your Dock. All it takes is a Terminal command. Open Terminal (found in /Applications/Utilities) and copy and paste the following text at the prompt: