Hands-on with Amazon's Mac software store
Amazon's Mac software store offers some benefits, but falls short of Apple's Mac App Store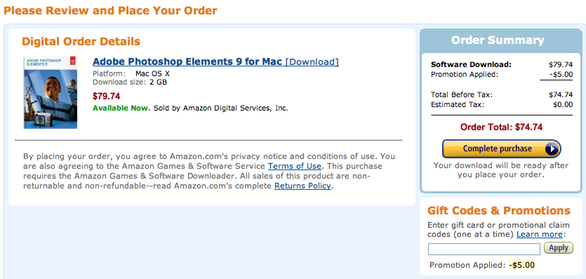 Buying Mac software is much like buying anything else on Amazon.com.
I purchased Adobe Photoshop Elements 9, which is currently selling for $79.74 (although entering the code SAVE5MAC will take $5 off the price of a single download until June 1).
Once the purchase is complete, you get three options for downloading your new software: you can click the large Start Download button on the confirmation page; you can click the Want To Download Later? link to have Amazon send you an e-mail message containing the download link; or you can visit your account's Software Library page on the Amazon site at any time.
This is where the process gets quite a bit less convenient than buying through the Mac App Store. The first thing you actually download is a small disk image (2.1MB in size, in my case) containing an application-specific [Software Name] Downloader program. Open this disk image, if your browser doesn't mount the image automatically, and double-click the Amazon Software Downloader.app inside. After a few seconds, the Downloader program begins downloading the purchased software—not to your Downloads folder, or even to your Applications folder, but to a new folder on your Desktop.
Amazon's purchase-confirmation page listed Photoshop Elements 9 as a 2GB download that would take one to three hours over a broadband connection. The actual Downloader program was a bit more optimistic, noting the size of the download as 2.3GB but estimating it would take just under an hour to finish. On my Comcast cable-modem connection, the actual download time ended up being around 45 minutes, which isn't too shabby.
Installing
Once the download is complete, the Downloader gives you the option to install the new software, view your license keys (if applicable), or open the download folder in the Finder. (In the case of Photoshop Elements, that folder contained two files: a PhotoshopElements9.dmg disk image and Adobe Photoshop Elements 9 for Mac Keys.html, an HTML document containing my license key.)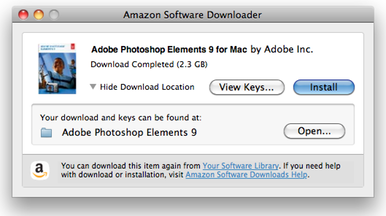 Once your software has been downloaded, it's time to install it.
Unfortunately, at least for my trial run with Photoshop Elements, clicking Install here didn't actually install the purchased software. Instead, it simply mounted the aforementioned PhotoshopElements9.dmg disk image. It was up to me to figure out where to go from there. (Although there were copies of Adobe Photoshop Elements 9 Read Me.html in four languages, none of them explained how to actually install the software.) I double-clicked the Adobe Photoshop Elements 9 item, expecting it to launch an installer, but it turns out that was just a folder with a custom icon. Inside that was Install.app (along with several folders named deploy, packages, and payloads). Double-clicking Install.app launched the Photoshop Elements installer, which prompted me to enter my 24-character license key, to sign up for an Adobe ID, and to choose which components of Photoshop Elements I wanted to install. After providing an admin-level username and password, and quitting applications that were currently using Flash (for reasons that only Adobe knows), the installation proceeded.
Previous Page 1 2 3 4 5 6 Next Page