Hands-on with Disk Utility in El Capitan: Tool for storage devices gets a facelift
A utility you hope rarely to need gets a complete overhaul, omitting familiar features and making some actions easier to carry out.
During El Capitan's beta testing, one round of release notes from Apple explained the permissions removal from Disk Utility by noting that during software updates, any permission issues would be resolved by an installer, but that otherwise, there was no need. (If you disable SIP to use certain third-party software or unsigned kernel extensions, you're on you own now.)
All colors of the rainbow
This new version of Disk Utility shows a prettier display when launched. As in the older versions, the boot partition is selected—the partition on a drive that holds the currently running OS X system. The list is divvied up into Internal, External, and Disk Images. However, instead of selecting the First Aid tab, Disk Utility now shows a variety of basic information about the partition.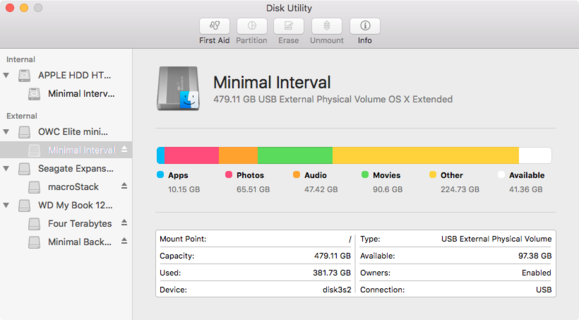 At launch, El Capitan's Disk Utility shows a vibrant display of how the boot drive's storage shakes out by category.
This view may seem familiar if you've taken a trip recently to  > About This Mac and clicked Storage. For volumes "blessed" as capable of being used as a startup drive, you'll see a color-coded division—similar to that in iTunes for iOS devices—of how much storage is used and for what. For other regular volumes, just a yellow Other bar shows occupied space. Disk Utility only shows the division for the current booted volume, however.

You might recognize the Disk Utility file-type view from About This Mac > Storage.
The area beneath the drive icon and its summary offers a bit of technical detail, but not an overwhelming amount: the Unix mount point, like / with a boot drive; its type and connection; capacity, available, and used; and the logical name used by OS X (like disk3s2), which can be helpful if you need to plug it into diskutil or get remote help for your problem.
Where did all the other tools go? They're still there, but as buttons instead of tabs. Across the tab, you see First Aid (disk repair), Partition, Erase, Mount, and Info. Mount toggles to Unmount for volumes that are available in the Finder. (You can also click the eject button now next to any mounted volume in the list.)

A successful disk repair offers hidden details that can be revealed.
Select a drive or a partition and click First Aid, and a seemingly much-changed repair operation proceeds. Unlike in its predecessor, Disk Utility can no longer verify a disk, making sure it's OK without unmounting it or performing other operations. First Aid must be able to unmount a drive, or you'll get an error. Click Show Details and you'll see a bit more of what's happening under the hood, as with the earlier release.
Previous Page 1 2 3 4 Next Page