Hands-on with Disk Utility in El Capitan: Tool for storage devices gets a facelift
A utility you hope rarely to need gets a complete overhaul, omitting familiar features and making some actions easier to carry out.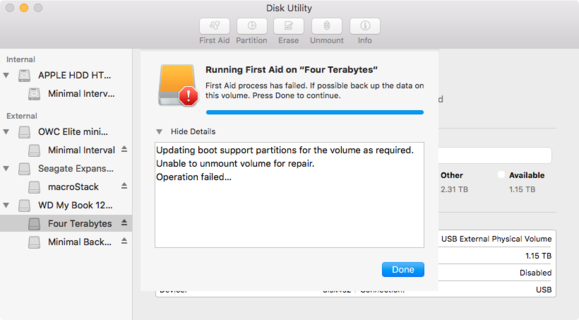 If Disk Utility can't unmount a volume, First Aid fails. There's no verify option.
You can erase either a partition or an entire drive. Drives have both a format and a scheme: the scheme controls how the drive is prepared to be used to boot with different operating systems. Intel-based Macs need a GUID Partition Map; PowerPC ones, Apple Partition Map; and Windows (and DOS!), Master Boot Record. OS X can mount all three kinds, but only boot from the GUID flavor.

Disk Utility's Erase option allows formatting across several types.
The several types under Format, whether for a drive or a partition, control filesystem-related issues. Here, you'll almost always pick OS X Extended (Journaled) for best results. (To make a USB thumb drive or other disk to use with Windows, you may have to pick Master Boot Record as the scheme and ExFAT for cross-platform compatibility.)
The GUID Partition Map lets you resize partitions after they've been created and make new partitions, a boon compared to the olden days, when you had to back up an entire disk, reformat it, repartition it, and restore to change those formats. In the new Disk Utility, you drag a handle around a circle and click the + button to add new partitions.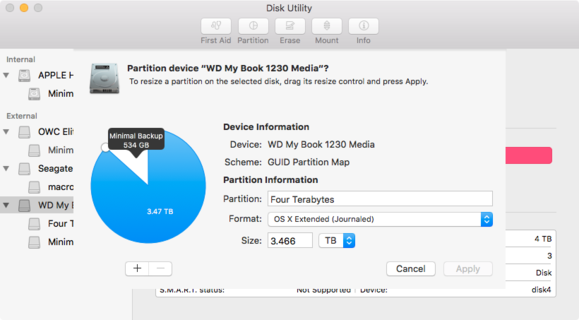 Repartitioning a GUID Partition Map drive is as easy as dragging a handle around a circle. Is that easy? You can also type in numbers.
Is a circle of pie slices a better representation of disk storage than the stacked rectangles used in earlier releases? Hard to say: both refer to a linear range of locations on a physical disk and yet appear in two dimensions!
Finally, with any item select at left, click Info and receive a cavalcade of lower-level system detail useful for troubleshooting without diving into Terminal.
Disk image management
As in previous versions, Disk Utility has several options for disk images, such as verifying, creating a checksum (which allows verification by others), resizing, and converting the type. You can create a disk image from any folder (File > New Image > Image from Folder) or any selected mounted volume (File > New Image > Image from [Name]). The Blank Image option remains unchanged from recent releases.
Copying has become more obscure than the previous version. Technically, a copy happens via restore. You select a mounted volume or a disk image you've added to Disk Utility and then select Edit > Restore. You then choose the source that you want to overwrite the selected item, whether another mounted volume or a disk image. Restore is often used with backups, hence the name, but it's just a backwards-described copy.
Previous Page 1 2 3 4 Next Page