Hands-on with Spaces, Mission Control, and Split View in El Capitan
Learn how to use these features in El Capitan to make your desktop more manageable.
On my iMac, where I do most of my work, I have a couple more spaces, for apps like Evernote and Todoist, and a space for my calendar app (Fantastical), which, while not in full-screen mode, is large enough to fill my display, making it easy to see my appointments and tasks.
You can switch among your spaces in three ways, even if Mission Control isn't visible:
Press Control-Left Arrow or Control-Right Arrow;
Swipe to the left or right with three fingers;
Switch to an application in a different space. This takes you to that application's window in its space.
Organizing apps in Spaces
You can add as many spaces as you want. Invoke Mission Control and click the "+" button at the top-right of the window. This adds a new space to the right of the existing, numbered desktops, but to the left of any apps that are in full-screen mode.
If you're in a specific space and you launch an app, that app opens in the current space. But the next time you open it, you may be in a different space. One way to stay organized with Spaces is to pin apps to specific spaces. To do this, open any app in a specific space, and click on its Dock icon. Choose Options, and you'll see the Assign To section lets you choose All Desktops, This Desktop, or None.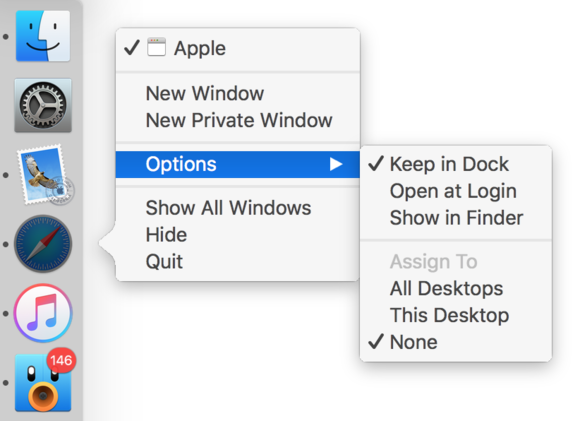 Assign apps to spaces from the Dock.
The first choice means that the app will display no matter which space you're in. I use this for the Finder, so I can always access my Finder windows. Setting an app to This Desktop means it only shows up in a specific space; when you switch to the app by clicking its Dock icon, or by pressing Command-Tab, El Capitan takes you to its space. And setting this to None means that apps display only in the Spaces where you open them.
Split View
El Capitan introduces the new Split View. You can have two windows display side-by-side without having to manually resize the windows to get them to fit. To do this, click and hold the green zoom button on one window. Release this button, and that window fills the left half of the display. Move your cursor to the right side of your display and click a window. That window expands to fill the other half of the display. You can also initiate Split View by invoking Mission Control, dragging a window to the top bar, then dragging another window on top of it.
You can drag the divider between the windows, if you wish, to show more or less of each one. And these two windows are a space; if you invoke Mission Control, you'll see a desktop named with the two apps. To exit Split View, hover your cursor over that space and click the double-arrow button that displays at the top-left corner.