How to capture audio with Soundflower
It's possible to capture sounds your Mac makes as well as audio streamed from the Internet. And you can do it for free with Soundflower. Here's how.
Step 4: Monitor the Mac's sound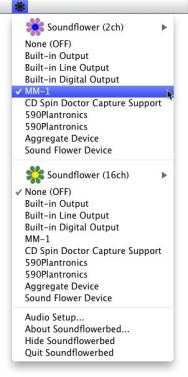 When you choose Soundflower as your Mac's audio output you can no longer hear it through attached speakers or headphones. In order for you to monitor what's happening, launch the Soundflowerbed application (found in /Applications/Soundflower). Click the Soundflowerbed menu bar item that appears and choose your speakers or headphones from the menu. Now, not only will your audio application capture what your Mac plays, but you'll be able to listen to the source audio as well. (You may want to do this before setting up QuickTime or GarageBand to capture your audio, but that's up to you.)
Again, any sound your Mac makes will be channeled through Soundflower so you'll want to disable alert sounds or quit those applications that make them. Additionally, if you change your Mac's volume, that change will be captured by the application that's recording Soundflower's sound. So, lay off the volume and mute controls.
You can avoid both of these issues by using an application such as Ambrosia Software's $69 WireTap Studio or Rogue Amoeba's $32 Audio Hijack Pro. Each of these applications allows you to capture sound from specific applications. You can adjust volume or fire off system alerts all you like and they won't affect the audio the applications capture. (If you go the Audio Hijack Pro route consider purchasing the $50 Audio Hijack Pro/Fission bundle, which includes the Fission sound editor. WireTap Studio includes an editor.)