How to convert audio to other formats
Audio files come in a number of different formats, and there are times you might want to convert audio from one format to another. Kirk McElhearn explains how it's done.
Find the files you want to convert and add them to a new playlist. Open iTunes' preferences, click on the General icon, then click on the Import Settings button near the bottom of the window. This shows your current CD-ripping settings (which also apply to conversions made with iTunes). You can then make changes to these settings—for example, if you want to convert your files to MP3 format, choose MP3 Encoder from the Import Using menu. Choose a bit rate from the Setting menu. You should never choose a higher bit rate than your original files; your music won't sound any better. But you can choose the same bit rate, so if you have 256-kbps AAC files from the iTunes Store, choose Custom from the Setting pop-up menu, and then set the Stereo Bit Rate pop-up entry to 256 Kbps to make sure you don't lose any quality. (Converting from one lossy format to another will result in a very slight, but not noticeable, loss of quality.) Click OK several times to to save your settings and to close the Preferences window.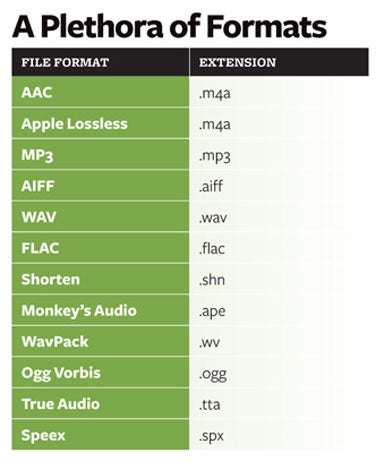 These are the most common formats for audio files.
Back in your playlist, select all the tracks then choose Advanced -> Create MP3 Version. (If you have chosen a different format, its name will appear instead of MP3.) iTunes will convert your files, and you can search for them in your library when it has finished. (Hint: Sort you Music library by Date Added and those files will float right to the top.)
Use another app to convert your files
There are a large number of file formats (see the most common ones in the "A Plethora of Formats" table), many of which iTunes doesn't support—notably FLAC, Shorten, and Ogg Vorbis.
So what can you do if you have files in one of these formats and want to add them to iTunes? There are a number of programs that can convert audio files from one format to another. tmkk's free XLD is my tool of choice, as it manages every audio file format I've ever come across, along with some I've never heard of, and even supports cue files. Stephen Booth's free Max is another tool that converts many audio file formats. And if you have Roxio's Toast 11 Titanium (and some earlier versions), you can convert from FLAC or Ogg Vorbis to iTunes-friendly formats.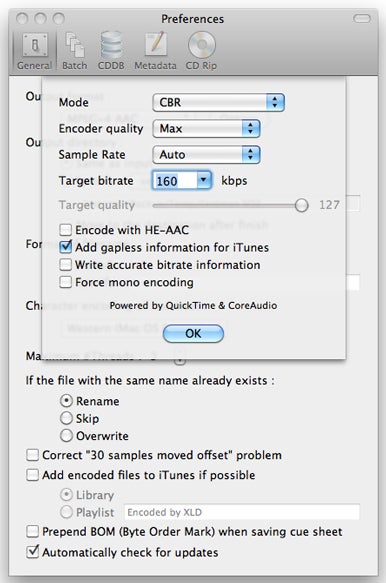 After choosing an output format, XLD lets you choose bit rate and other settings.