How to install OS X El Capitan
Your guide to installing Apple new operating system for Macs.
To copy the installer, you need to hold down the Option key as you drag the Install OS X El Capitan app in your Applications folder to the copy destination. If you don't hold down Option, you'll create an alias, not a copy.
Install El Capitan
OK, now you can click that Continue button in the installer window. (If the installer isn't running, go to your Applications folder and double click the Install OS X El Capitan app.) You'll be asked to agree and then confirm that you agree to the license agreement.
The next screen will ask you to select the disk for the El Capitan installation. If you have one storage device with one partition, you'll see it in the installer window. But if you have multiple storage devices and/or multiple partitions, you can select the one you want by clicking the Show All Disks button. Make your selection and click Install.
To continue, you must enter your username and password. The install will prepare to install, restart your Mac, and perform the installation. The Mac may restart again during the installation process. The install will take several minutes, so you may want to go for a walk, call your mom, take a nap, or catch up on chores while the software does its thing.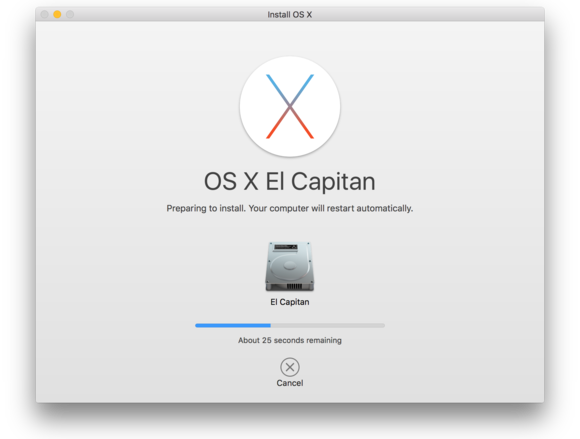 When the installation is finished, the Mac will restart and you'll need to log in with your username and password. You may be asked if you want to send diagnostic data to Apple and that you need to log in with your Apple ID, and then a setting up screen will appear and go away. You're done.
Want to do a clean install of El Capitan?
A clean installation is when you install the operating system on a blank storage device. You can do this by creating a bootable El Capitan installer, and then use it as the boot drive for your Mac. You run Disk Utility to erase your drive and then proceed with the El Capitan installation.
Once the installation is done, you use Migration Assistant to transfer your data from a Time Machine backup.
Why should you do a clean install? Maybe you partitioned your storage device and want to change the scheme. Or maybe you've installed and removed lots of apps over time and want to get right of any lingering software components—if this is the case, don't restore your data from a Time Machine backup. Manually copy your files and reinstall your software.