iCloud could potentially do wonders for sync
We don't yet know what iCloud is, but we know Steve Jobs will tell us soon enough. Lex Friedman hypothesizes (and hopes) that it will offer cross-device syncing like Dropbox, with the benefit of being built in to iOS 5 and Lion.
All we know for certain about iCloud so far is that Steve Jobs will tell us all just what the heck it is at next week's Worldwide Developer Conference. For now, only a few folks in Cupertino know precisely what iCloud will be. But plenty of us have an idea of what it could be.
For some, like my Macworld colleague Christopher Breen, that means possibilities for streaming media. But my hopes for iCloud don't focus on iTunes at all. Rather, I'm more interested in how the service could theoretically improve my cross-device productivity.
Right now, iPad file management requires a combination of several kludgey methods. Search the Web—including this very site—and you'll find plenty about the awesomeness of Dropbox, but not every iOS app supports it (including any of Apple's). The apps that do support Dropbox each rely upon their own implementation. All this is true of Apple's own iDisk, too, except that we haven't spent much ink extolling that service's virtues. (I don't use iDisk anymore. I found it slow and occasionally hungry for eating up my files.)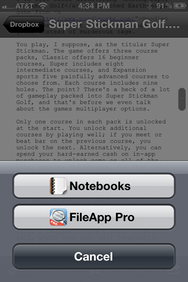 Sure, Dropbox is great. But if iCloud means we can stop relying on sending files between apps, we'll be thrilled.
Thus, my wish for iCloud is that it includes Dropbox-esque live document sharing and synchronization between Macs and iOS devices. I want it to be built in such a way that developers can include it in their apps as easily as they can embed an Open dialog box (on the Mac) or call up the virtual keyboard (on iOS). All the work—the syncing, the interface itself—should fall under Apple's purview, so that the experience is constant and equally available to all developers.
As I imagine it, I could create a document in Pages on my Mac and save it to iCloud. When I go to my iPad, I can open the same document there from iCloud within the mobile Pages app. And as with Google Docs, if I leave the document open on multiple devices at the same time, each of them automatically updates on-the-fly to remain current with whichever version I'm actually editing at that moment.
Now that Apple's iWork suite is available for the iPhone (and not just the iPad), the lack of such an Apple-endorsed syncing service is even more palpable than it was before—and trust me, it was already palpable to the point of causing would-be syncers heart palpitations. At best, working on a file between your Mac, your iPad, and your iPhone today requires downloading copies from and then sending updates back to MobileMe, in an awkward, unintuitive, and very non-Apple-like file management dance. At worst, it involves e-mailing yourself lots of copies of the same file with each new revision you make.