iOS 5: What you need to know
We answer your questions about Apple's upcoming iOS update
Reminders is a new to-do list app from Apple. The app behaves much like many similar apps already in the App Store, but with a few extra niceties built in. Perhaps the cleverest feature in Reminders is its ability to tie alerts to geographical locations. That way, you can set the app to remind you about a given task—"Don't forget the eggs"—when you arrive at (or depart from) a specific location. You can optionally sync Reminders across your iOS devices via iCloud.
You can also set time-based reminders for tasks. You create separate lists of reminders; a given entry can belong to just one list. Tasks can optionally be assigned one of three priority levels—Low, Medium, or High. More advanced to-do features, like contexts, tags, notes, and manual task re-sorting, aren't yet included in Reminders.
Updated apps
What's new in Safari?
On the iPad, Safari in iOS 5 supports tabbed browsing; the browser window switcher is a thing of the past. Safari Reader—the feature that pulls article text out of its Web page and presents it in a standalone, cleaner view—makes the leap from the Mac OS to iOS, too. Also new is Reading List, an Instapaper-like approach for saving Web pages to revisit later, short of a formal bookmark. Unlike Instapaper, though, Reading List doesn't appear to save article text; it really just stores the URLs for later revisiting.
Tabbed browsing comes to the iPad version of Safari in iOS 5.
Over in the Settings app, you'll be able to turn on Private Browsing mode.
What's new in Camera and Photos?
The Camera and Photos app sport a variety of new features. In iOS 5, you can use the volume button on the iPhone as a hardware shutter button, instead of relying on the on-screen button. You can optionally enable grid lines while composing your photos. And after you take photos, you can modify them in a variety of ways. There's One-Touch Enhance—pulled straight from iPhoto, red-eye reduction, rotating, and cropping.
Also new: a camera button on the iPhone's screen. It sits right next to the "Slide to Unlock" bar, making that bar a little narrower.
What's new in Maps?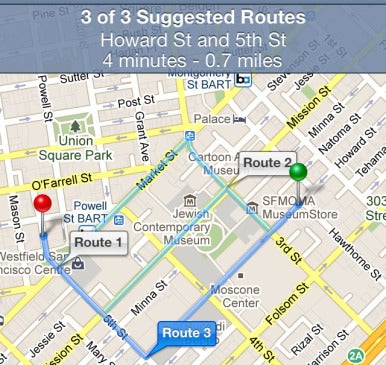 There's now more than one way to get where you're going in iOS 5's version of Maps.
In iOS 5, Maps can suggest alternate routes—a feature that will be welcome to anyone who's been dissatisfied with how the current version of Maps tells you to get from Point A to Point B. There's still no sign of the baked-in turn-by-turn GPS navigation that our Android-toting friends enjoy, though.
Previous Page 1 2 3 4 5 6 Next Page