iOS 5: What you need to know
We answer your questions about Apple's upcoming iOS update
What's new with FaceTime?
Not much. Apple says FaceTime video quality is better in iOS 5, and that iOS 5 supports "FaceTime mid-call invitation alerts." You still can't place FaceTime calls over 3G. And we're still waiting on other device makers to adopt the FaceTime open standard so that conversations won't be limited to just Apple-built hardware.
What's new with Calendar?
Landscape support. Turn your iPhone to landscape, and you'll immediately see a week view.
What's new with Mail?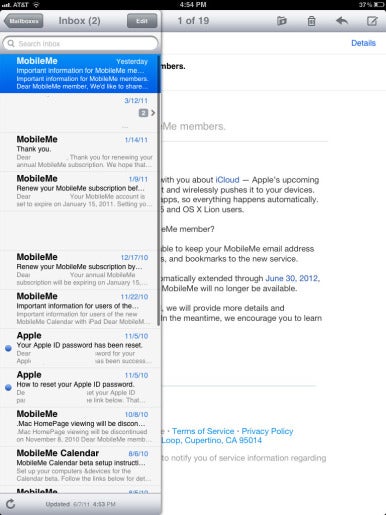 You can hide or reveal Mail's sidebar with a simple swipe in portrait mode on the iPad.
On the iPad, a simple swipe in portrait mode hides or reveals the sidebar; it's a pleasant alternative to the popover button. New in all versions of Mail is the ability to flag messages. That functionality changes the button that used to read "Mark as [un]read" to simply "Mark"; tapping it reveals options to change a message's read or flagged status.
Mail also supports rich text editing (for using bold, italics, underline, and the like), and full-text searching—including for messages that reside only on the server, not your device.
And what's new in the iPod app?
What iPod app? As has long been the case on the iPod touch, now all iOS devices split the iPod app into two separate apps: Video and Music. The Music app gets a makeover on the iPad, but its basic functionality remains the same.
Miscellaneous questions
I recall that Apple bought Siri and was rumored to have made some big deal with Nuance. Does that mean there's new voice transcription functionality in iOS 5?
Some background: Siri Assistant is a voice-driven search app that has remained on the App Store even after its maker was bought by Apple in 2004. Nuance specializes in voice-recognition and has a few well-regarded apps of its own for the iPhone. It's possible that some jazzed up voice-driven features may be built into iOS one day, but as of right now, Apple hasn't announced anything on that front.
So new voice features at all?
You'll be able to place FaceTime calls via Voice Control. That's something.
What's the deal with the split keyboard option?
Remove the virtual keyboard from the bottom of your iPad's screen and it splits into two halves.
That's an iPad-only feature in iOS 5. If you choose, you can drag the virtual keyboard up from the bottom of the iPad's screen. As soon as you remove it from the bottom, the keyboard splits into two halves, with the keys resized to match those of the iPhone's keyboard. You choose where to drag the keyboard—or really, keyboards—on the screen, and all apps inherit that keyboard setting. You can't use one setting for portrait and another for landscape, but it's very quick to move the keyboard around. And as soon as you drag it back to the bottom, it melds back together and returns to its default size.
Previous Page 1 2 3 4 5 6 Next Page