Presentation app improves on the iPad, struggles on smaller screens
When Apple introduced Keynote for the iPad last year, it did a terrific job translating the desktop application's functions to the tablet's multi-touch interface. But the iPad imposed limitations that made the iOS version less-than-ideal for creating or editing presentations on the go.
Subsequent updates remedied some of Keynote's shortcomings, adding support for presenter notes, object grouping, AirPrint, and improved PDF export. The recent 1.4 update brings Keynote to the iPhone for the first time and adds a couple of new features, but the mobile app still suffers from restrictions imposed by the hardware.
Although the iPhone and iPad apps are identical internally—Apple distributes Keynote as a universal binary that runs on any compatible iOS device—the user interface changes to accommodate the iPhone's much smaller screen. Unlike Keynote on the iPad, the iPhone version doesn't have a toolbar icon to animate objects. Instead, you tap on the Tools icon and select Animation Mode from the list of options. Many other interface elements are arranged differently on the iPhone, so I had to hunt around a bit to find corresponding functions.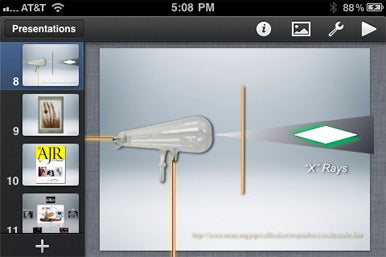 Tight Fit: The iPhone's small screen limits the size of the slide navigator and canvas in Keynote.
The iPhone's screen hampers Keynote in other ways, too. On the iPad, the slide navigator has room for eight complete slide thumbnails, compared to barely four on the iPhone, and the iPhone's thumbnails are smaller. Because there's no slide sorter, it's hard to obtain an overview of a presentation, an essential perspective when you're shuffling slides around. I'd like to see Apple add a full-screen sorter view with slightly larger thumbnails that you could drag-and-drop. The tiny screen also makes it more challenging to move, resize, or rotate objects on a slide. As on the iPad, you can expand the slide canvas by pinching it open with two fingers, but it's still difficult to manipulate objects as precisely as you can on a larger display.
Like earlier iOS versions, Keynote 1.4 doesn't support all of the desktop app's features. Sometimes, you can work around the limitations without much effort: for example, it's usually not too difficult to find an acceptable iOS equivalent for a missing desktop font or slide transition. But many effects, such as Smart Builds, audio tracks, object hyperlinks, and some animations, are completely absent from Keynote 1.4. The lack of Move actions, which let you choreograph complex movements of slide objects in the desktop version, is particularly frustrating. You can sometimes achieve similar results with Magic Move transitions, which are supported in Keynote for iOS, but in many cases, there's simply no suitable alternative.