Mac troubleshooting FAQ: start-up woes
In his Mac 911 blog, Chris Breen answers reader questions about their Macs and their apps. Some questions keep popping up, over and over. Here are our answers to the most common ones about powering up your Mac.
If that doesn't work, restart your Mac with your peripherals disconnected (except for the keyboard, mouse, and monitor) and hold down the Shift key to start up the Mac in Safe Boot mode. Safe Boot runs a smaller set of extensions and triggers Apple's hard-drive repair utility. If the Mac starts up correctly, restart without pressing the Shift key.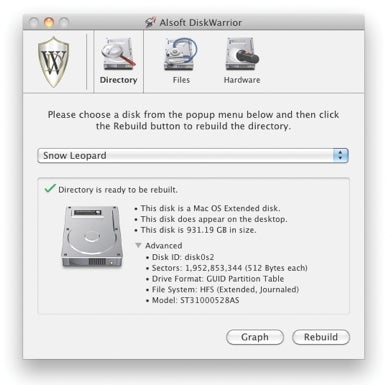 When Disk Utility isn't enough, Alsoft's Disk Warrior can solve some serious boot problems.
If the Mac still won't boot properly, shut it down and restart it while holding down Command-Option-P-R; keep holding them until you hear the Mac make its startup sound twice. Release the keys and pray that your Mac starts correctly. This key combination resets parameter RAM (PRAM) on PowerPC Macs and nonvolatile RAM (NVRAM) on Intel Macs. These resets can cure such ills as improper display resolution and confusion over which startup disk to use.
If that doesn't do the job, try to boot from your Mac's startup DVD or another OS X installation disc. (Insert the disc and boot the Mac while holding down the C key.) When the Mac boots from the disc, choose Utility -> Disk Utility, select the Mac's regular startup disk in the volume list, and, in the First Aid tab, click the Repair Disk button. If no problems are found, also click the Repair Permissions button. After permissions have been repaired, restart your Mac.
If Disk Utility does no good, you can try a third-party tool such as Alsoft's DiskWarrior (). DiskWarrior can repair the kind of low-level corruption that prevents your Mac from booting.
Still no luck? Remove any third-party RAM installed in the Mac. Your Mac's manual tells you how. If you've lost your manual, you can find a PDF copy on Apple's Support site.
Finally, try reinstalling OS X. Snow Leopard doesn't provide an Archive And Install option, as did previous versions of OS X. Rather, it installs a fresh copy of Snow Leopard (without archiving old system files), but leaves the rest of your files in place.
If none of these measures work—particularly if you can't boot your Mac from another drive or an OS X disc—contact Apple or an Apple Authorized Service Provider. The Contact Apple Support Web page tells you how.
My Mac starts up but crashes shortly thereafter, displaying a screen of gibberish.
That "gibberish" is a kernel panic—an error so severe that it takes down your entire Mac rather than simply crashing an application. Characterized by a gray screen that descends from the top of your Mac's display, the only way out of a kernel panic is to restart your Mac (usually by pressing and holding its Power button).