Mammoth Windows 10 Insider preview adds new Anniversary Update features galore
This is your first chance to try out some of Microsoft's Anniversary Update features. The only drawback? "Rough edges." Run this on a test PC.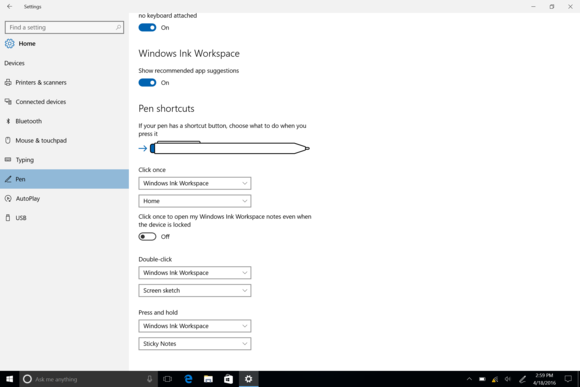 There are new Settings specific to the pen, too.
Within the Workspace, apps like Sketchpad provide a new twist on existing apps like Fresh Paint, but with the digital ruler functionality Microsoft showed at Build. Screen Sketch lets you draw on a full-sized screen capture, a la Microsoft Edge. Sticky Notes allow you to draw your own reminders—which will eventually be sucked into Cortana, too. Finally, Microsoft revamped the pen Settings menu and is even building out a pen-optimized subset of the Windows Store.
For more information about Windows Ink, check out this video.
Hurray! Microsoft's tweaked the Start menu
Microsoft enjoys fiddling with the Start menu, but we think you'll like these changes: the most used apps list and the all apps list are now a single view, optimized to eliminate unnecessary clicking and scrolling. Any folders you've placed into Start will be immediately available, without the need to access the "hamburger" menu.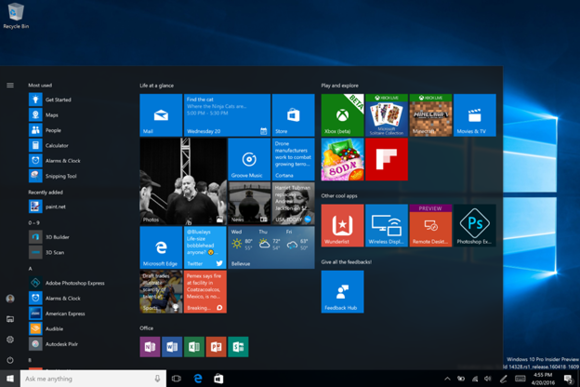 Note some of the changes in the new Start menu: the "recently added" shows three entries, and the all app section is just a scrollable column.
Perhaps best of all, the Power, Hibernate, and Sleep commands have been separated and stored on the left rail, where they will always be accessible.
In tablet mode, Microsoft also made a change: It brought back the grid view to All Apps. Well, sort of. The menu has been revamped, though Microsoft also retained the "pinned tile" view.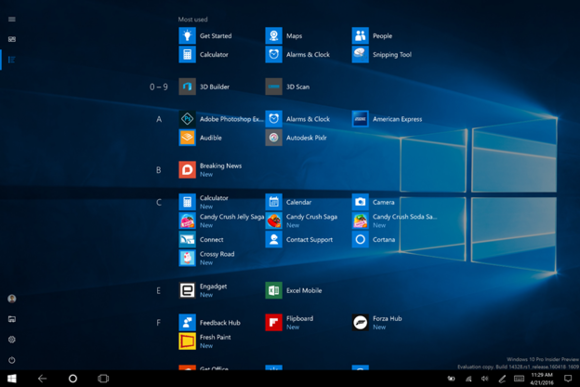 The Start menu in tablet mode.
Help Cortana help you, no introduction necessary
Microsoft taught Windows 10's Cortana assistant a number of new tricks, but perhaps the most interesting is the fact that you don't necessarily need to introduce yourself anymore.
Instead of a digital assistant, Cortana can become more of a librarian, answering general questions about the world without the need to sign in and disclose your personal information. If you want to set a reminder or ask for personalized assistance, though, you'll need to sign in—especially if you want Cortana to look through your OneDrive for a file, another new feature.
Cortana also appears on your PC lock screen, where she can be configured to respond to questions and set reminders if you enable the "Hey Cortana" feature. (You may need to unlock your device in certain situations.) Note that you'll probably consume some additional power while doing so, but how much isn't clear.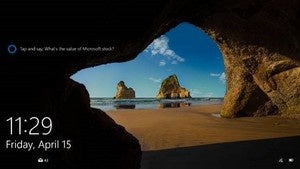 Cortana on the Windows 10 lock screen.
Previous Page 1 2 3 4 Next Page