Mammoth Windows 10 Insider preview adds new Anniversary Update features galore
This is your first chance to try out some of Microsoft's Anniversary Update features. The only drawback? "Rough edges." Run this on a test PC.
Cortana also includes the features from recent Windows 10 Mobile updates, including Build 14322, with the capability to tie camera photos to reminders, as well as send content from universal Windows apps like the Edge browser to Cortana as a reminder to read later. More to the point, Microsoft also has tied Cortana more closely to your Windows phone: Cortana will now inform you of low battery power on your mobile devices, you can ask Cortana to find and ring your phone, and you will be able to share maps across all your devices. Media playback controls have also been added to the PC's lock screen, a feature that debuted in Build 14322 as well.
Finally, if you really hate that Cortana displays your email address on the lock screen, good news: that's gone.
Taskbar, Action Center become workspaces
Normally a collection of icons that quickly allow you to navigate from app to app, the Windows 10 taskbar now offers its even more context. Universal Windows apps like Mail will show off "badges" that indicate how many unseen (not unread) emails you have. And if you want to see your calendar, you don't need to open the app—the taskbar will display it, and even allow you to add an appointment.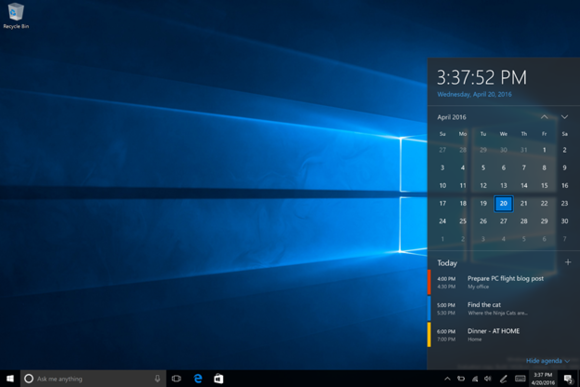 Who needs the Calendar app? The Taskbar has you covered.
One icon, though, has vanished from the Taskbar: the File Explorer icon, which has been removed. Last year, Microsoft killed the search box, and this year, the File Explorer has been unpinned. It's still accessible from the Start menu, though, and you can always repin it. But if you discover it, you'll also notice a slightly revamped icon.
There are also a few handy little conveniences Microsoft added: clocks now display on all monitors, and you can switch audio playback devices via the volume setting—using your headphones while on work time, for example, but your monitor speakers after hours.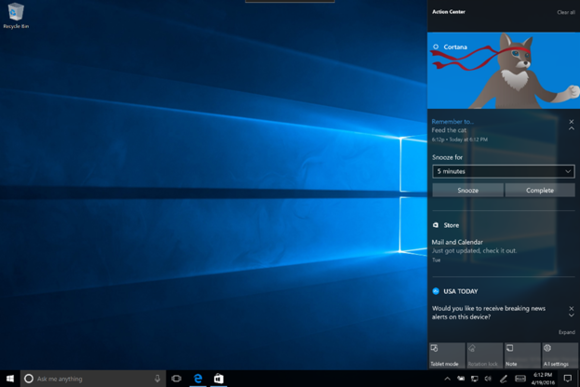 The Taskbar within Build 14328 does a better job of organizing notiifcations.
Microsoft's Action Center changes were documented in Build 14322 as well, and include visual changes that consolidate notifications by app. Perhaps the most subtle change is the addition of a taskbar "badge" that shows the unread notifications. Cortana may also drop in notifications, such as meeting conflicts, into the Action Center, Microsoft said. Finally, there's another convenience: clicking the Wi-Fi control doesn't turn off the Wi-Fi any more (why would you want to do that?) and instead brings up a list of available access points.
Previous Page 1 2 3 4 Next Page