Microsoft trumpets Windows 10's momentum at IFA
Windows 10 continues to roll on, Microsoft's OEM chief says.
Microsoft also believes in the power of all-in-ones. The Dell Inspiron 24 7000 series and others represents the future of desktops, he said. An Asus Zen AiO S includes a 24-inch screen with a 4K option, and improvments to Windows Hello, with 6 speakers, 4 mics, and a 4K UHD screen.
Parker also showed off a grab bag of other notebooks. The HP Pavilion 15, running Intel Core i3, can be had for $399, which includes a DVD drive. "It brings touch to the masses," Parker said.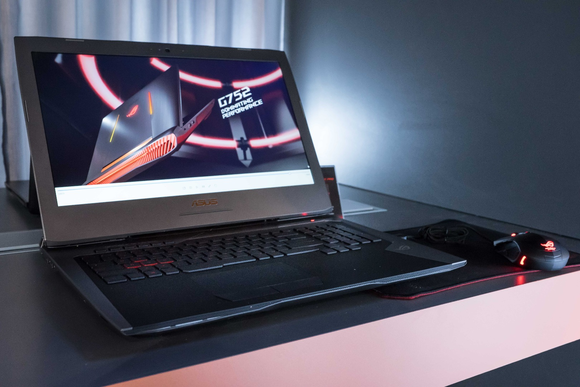 The Asus ROG G752 gaming notebook.
Parker also highlighted the $1,399 Asus ROG G752, with a 17.3 inch screen, Nvidia GTX 980 card, and an anti-dust cooling system. The Toshiba Radius 12, for $899, which also includes Windows Hello and its Cortana button, "is an incredible PC," Parker said. Parker also showed off a new, thin Toshiba 2-in-1 that hasn't previously been announced.
Windows also powers the Internet of Things. Windows will power ATMs, gas pumps, and medical devices, he said. Parker showed a Toshiba environmental data logger with 20 sensors and a battery life of about six months.